Wynyard – my little haven! Still to be plagued with the queues and door bitches of other joints nearby – it's a local spot and you can always grab a table and some very good food. I usually try and go early on a weekend or for a later lunch to avoid the crowds.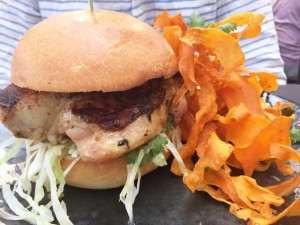 Lunch today and hubby has finally strayed from the breakie burger to the roasted chicken roll which is out of this world amazing! Big, soft bun with a massive piece of juicy roasted chicken and coriander, cabbage and super crispy sweet potato curls. It's a big old serve of delicious!
I couldn't go past the bratwurst – you can take the girl out of Germany! Big old fat sausage with sauerkraut, fried eggs and a massive dollop of mustard. The rosti was a bit greasy and 'well done' for me but didn't need it, it was still a fab dish!
Always a favourite, the menu is a smorgasboard of sensational options, that I get excited about every time. We'll be back very soon!