When the boys need a spot to catch their favourite American football games they often head to Turf Bar, it's a good old bar, with pub grub, cold beer and screens you can view from every seat and catch all the action whether it's cricket, footy, NFL, NRL and more! You enter off from the bustling street outside and into a traditional pub with a friendly ambience and an easy going style.
The menu has daily specials with Mondays $15 steak night and Tuesday $15 pizzas, Wednesday is PARMAGEDDON! And Thursdays is burger night. Simple, well done food perfect for boys, beer and shouting at the tv!! The regular menu hosts all the usual pizzas, steaks and burgers as well as sliders, fries, salads, chicken burgers, ribs and pulled pork – there's pretty much something for everyone!!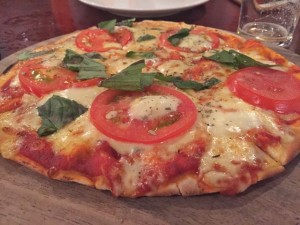 We happened to be there on pizza Tuesday so for $15 we filled the table with plenty of pizzas to share, great thin base – there was even a gluten free base option for the lady!!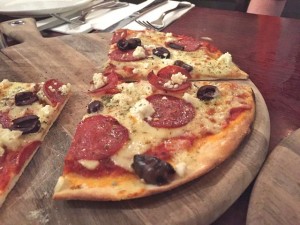 They were damn tasty, simple margherita with napoli, fresh tomato, basil and bocconcini or meaty salami with red onion, olives, feta, herbs and mozzarella. There is also a delicious sounding mushroom pizza with roasted mushrooms, spinach, feta, mozzarella and beetroot relish.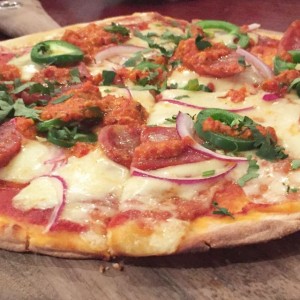 The Mexican with chorizo, jalapeños, red onion, coriander, red pepper pesto and mozzarella went down so well we should have ordered two and the BBQ meat lovers with chicken, chorizo, salami, red onion and mozzarella with BBQ sauce was too much for me!
It's friendly, easy going and the bar bill will undoubtedly exceed your food bill!!