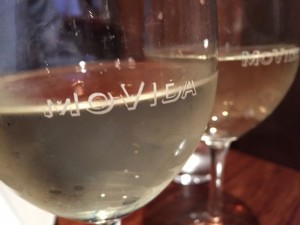 A spot that should be everyones top ten places to visit in Melbourne, yes we have an abundance of amazing restaurants to eat at but Movida was here long before the hype and will be here long after! They take bookings, imagine! The wine list is a good mix of locals and overseas and the menu is a whole lot of amazing tapas to share with those you hold most dearest.
The staff are always great, it's not a huge place but there are enough tables and the bar to keep everyone on their toes and there is always food on your table and water in your glass. So menu wise, you are going to have to choose but at least with tapas you get a few different dishes to experience. Think along the lines of smaller dishes like Spring Bay Pickled Mussel with Whipped Cod Roe and Potato Roe or Braised Lamb Chillindron Cigar with Red Mojo or Spiced Chicken Escabache Tapa on Crisp Crouton – oh yes indeed!
Larger dishes or 'RACIONES' include a Charcuterie Plate, Spicy Steak Tartare, Chargrilled Eggplant & Red Pepper salad, Rich Saffron and Seafood Stew, or House Made Black Pudding with Garlic and Pickled Padrons – hell yes!!
It is tricky to pick but as we're trying to be healthy we went for some protein and omega 3!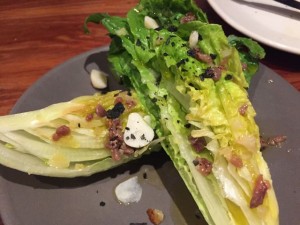 The 'COGOLLOS' are Baby Cos Lettuce with anchovy and pickled Garlic we simple yet delicious, I adore anchovies so I was already won over –though I would have liked more, lots more! The pickled garlic is not something I have had before and even if you got the garlic affliction the next day I would eat this anyway… but I don't think I did – does pickling cure garlic-itus?!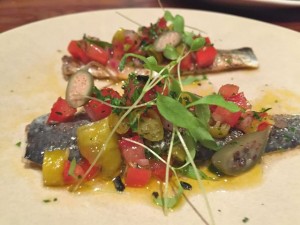 The sardines special were so delicate and flavour packed with tomatoes and caperberries – YUM!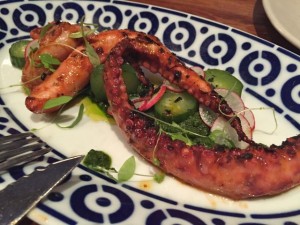 The 'PULPO' Grilled Western Australian Octopus with kipfler potatoes and green mojo was a relatively small dish for $20 but it was beautiful octopus, incredibly tender and I loved the radish and 'mojo' sauce!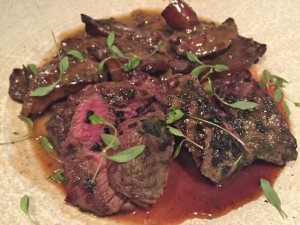 Our Flat Iron steak with mushrooms was so delicious, the lighting dimmed Hubby thought we had steak for four when it arrived, I had to burst the bubble that half of the dish was big meaty mushrooms and they were just as welcome as the medium rare steak was. A stand out dish for a steak and mushroom lover, I could eat this again tight now!!
We have a lot of love for Movida,, we sometimes forget what a great place we have just a short tram ride away. See you again very soon!