Just hiding around the corner is the lovely Kuu Café our new local Japanese and it is completely delightful! It's has replaced the Japanese that used to be there before, which was good but was only open weekday lunchtimes and wasn't as bright and fresh as Kuu has turned the space into. There are as many tables as they can squeeze in without it being too cramped and the white walls and wooden tables help to bring the space a real freshness. But it's all about the food and Kuu is making life very hard with so many good choices!
There is an all day breakfast menu with smashed avo on toast for those that just cannot live without it BUT there so much more to have a Kuu, smoked trout ochazuke, chicken katsu, tofu quinoa burger, tsukune meatballs, soba, udon, agedashi, curry…. And there seems to be plenty of matcha on the go too.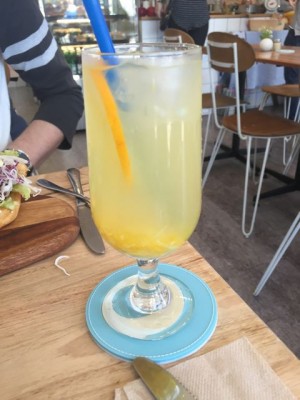 My homemade iced ginger tea was probably more sugar than I needed but I loved the massive ginger hit with orange – delish!!!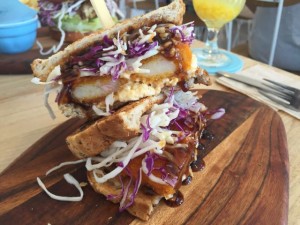 So food……..I know I should be good and have the sashimi salmon salad but how can you turn down Ebi Katsu sandwich? So the bread I can take or leave but those panko crumbed prawns with tartare, shredded cabbage and Japanese BBQ sauce and hot mustard mayo is one of the best things I have ever tasted….. a bucket of ebi katsu please!!! It's fabulous, possibly because it has all the fat, salt and sugar I have been craving but still once in a while this is a treat dish you would totally deny yourself a months worth of calories for!!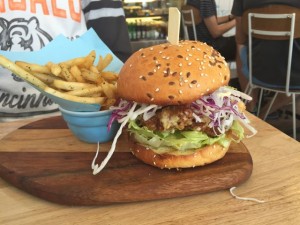 Hubby went one better with the Karaage Chicken burger and fries, Brioche bun with perfectly cooked, crispy fried chicken, homemade celery vinaigrette and kewpie mayo ofcourse! It was such a good dish, modest serve of fries and everything served with a smile!
So glad Kuu is our local!