It's a little street at the corner of town that I don't usually find myself in but if you do ever venture down Katherine Place you'll find a little hub of foodie activity with beautiful cakes, dumplings, Japanese and curry on offer – Who knew!! I am sure lots of people do know as they were all reasonably busy on warm summer Wednesday evening and we were lucky enough to drop in on Mr Huang Jin Dumplings and have some of the best dumplings I have had in ages.
The place is tiny, barely 40 seats – and very comfy, bouncy seats they are too!! Though small it isn't crammed in so you don't get someones bum in your face every time they get up to go to the bathroom! The menu is a lovely list of soup dumplings 'Xiao Long Bao', steamed dumplings and pan fried as well as plenty of other dishes to choose from with noodles, roti wraps, satay, curry, fried rice and TFC – Taiwanese Fried Chicken!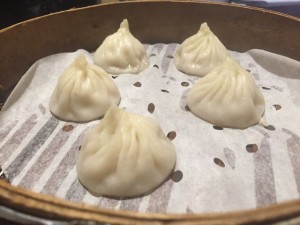 We are all about the dumplings tonight, lots and lots of lovely dumplings with a reasonable priced glass of local, bring on the Xiao Long Bao, dangerous little flavoursome pillows packed with 8 hour boiled soup and pork and ginger – delish!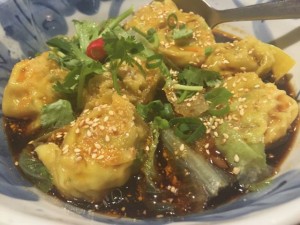 The steamed dumplings with pork and prawn, swimming in a bath of the family secret chilli sauce and peanut dust – hell yes!!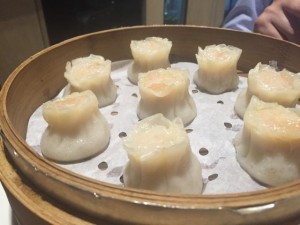 The steamed prawn shumai were sensational, almost too hot to eat, they were so good we risked a little mouth burn to get into those prawn packed little parcels.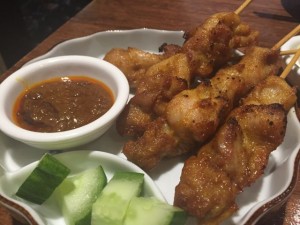 Chicken satay with succulent grilled chicken and delish peanut sauce.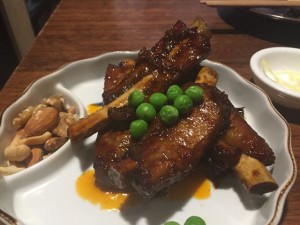 The twice cooked pork ribs were falling apart, full of flavour and had a good little bite to them.
It was a wonderful meal, there were another 10 dishes I wanted to get into so we'll just have to come back again very soon.