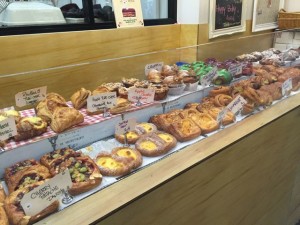 OMG Pastry, my evil one, my darkest thoughts, my droolworthy wonderous lustful thought……….. ermmm excuse me! So I LOVE pastry, I love custardy pastry even more! Everyone has had plenty of good things to say about Agathé Pâtisserie since they opened in South Melbourne Market to many a long queue and selling out of their famous croissants. It's taken me a while but on a quiet Friday morning there is no queue and plenty of freshly baked, decadently good pastries to choose from.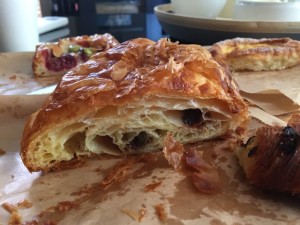 I do like pastry but I don't allow myself very often and if you are going to treat yourself this is definitely one of the best, I was cynical to start with, one pain au chocolat with layers upon layers of flaky puff is the same as all the rest but once you have tasted these you will …. eat your words so to speak!! It is sensational, so many, many layers of pastry and you can see them all and taste them all as you bite through……. drool drool!
But how do you choose from so many tempting treats, I was like mum with poor hubby….. "You can choose two" and then I'll get a pain au chocolat as well just to try!!!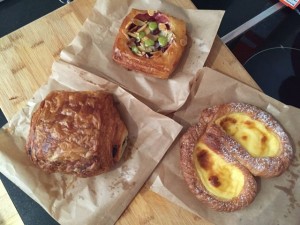 The cherry danish with pistachio was so deep! Deep, sweet cheery flavours on a wonderful crisp danish square….. soooo good!
But my heart, literally, went to the custard heard danish! OMG I love cold, wobbly, sweet custard and held together in a danish heart – it's valentines everyday for me!!
It's not an everyday food and it's not an everyday place so enjoy and if you are going to have a treat – make it count!!