Rainbow Trout 3 Veg Pies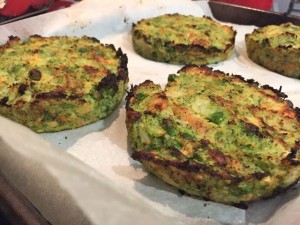 Super healthy, no carbs, no fats, no gluten, no eggs, no caffeine, no dairy….. BUT still fun!! It's been a hell of January detox but I am pretty chuffed with myself that I have managed to keep manipulating ingredients for maximum flavours and this was a complete fluke! I just fell in love with the fish and then took whatever we had in the fridge to bring it all together.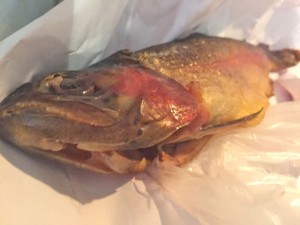 So handsome! Apparently our fishmonger picked me the best looker!!
Ingredients;

1 x Smoked Rainbow Trout
1 x Large head of broccoli
1 x 1/2 head of cauliflower
1 x cup of cooked peas
1 x teaspoon of lemon zest
S&P
Pre heat the oven to 180 degrees.
Breakdown the rainbow trout and watch out for the tiny bones, I wasn't as careful as I should have been taking this off the skeleton and ended up fishing through for bones for 20 minutes after I mixed it all!!
Steam or nuke your broccoli and cauliflower and then puree with a stick mixer or processor to make a kind of veggie mash.
Mix together everything in one bowl and then use expandable pie cases to form the pies on a tray with baking paper, pack the pie cases to make big, round cakes and then release from the case and they should hold their form.
Bake in the oven for 30 – 40 mins – once the edges start to darken and then serve for a light dinner or lunch with a fresh salad or a non detox beautiful German potato salad … hmmm that would be immense!!!
Enjoy!