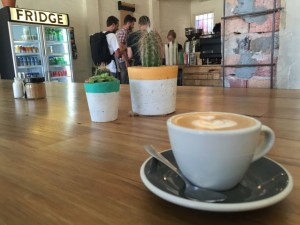 Touchwood on Bridge Road has been a hot spot for breakie, coffee and lunch for a while now and it's taken way too long for us to get over and try it out. The menu is a great mix of the usual suspects and some new and exotic options to spice up your day.
Breakfast can be 'Flip Shelton's 5 grain porridge' with vanilla almond milk, rhubarb compote, blue berries and toasted coconut or Poached pear and salted caramel wholemeal waffles with whipped mascarpone, strawberry dust and toasted almonds or Sticky coconut quinoa pudding, seasonal fruit, pistachios. But then spicing it up with Nasi Goreng Classic style with low GI brown rice and topped with a fried egg or Chilli Scrambled Eggs with Bacon,spring onions and manchego cheese WOWSERS!!!
We were there just on the cusp of lunch so it was a tough decision with so many great options in the breakfast menu but then lunch smashing out dishes like Roasted Cauliflower Salad with Pear, gorgonzola, radicchio, rocket, walnuts and balsamic or Mild Beef Curry with Ginger, onion, steamed basmati rice with mint yoghurt and coriander or Danish 'Smørrebrød' Open Sandwich with House smoked salmon, cream cheese, celeriac remoulade, capers, dill and dark rye. Tantalisingly wonderful!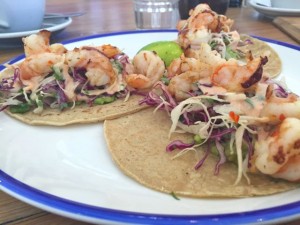 After much deliberation I went for the Cayenne Prawn Tacos with creamy smashed avocado, crunchy red cabbage slaw, coriander and chipotle aioli – it was really, delish, good level of heat with the cayenne but then softened with the aioli and slaw.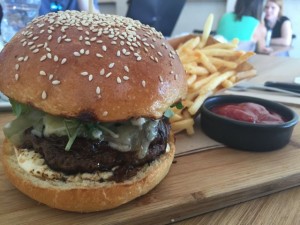 Hubby went for the Wagyu burger with Gruyère cheese, caramelised onion, house pickles, watercress, Dijon aioli on a brioche bun with chilli dusted fries. It was a good burger, there was a lot of pickles and aioli which slid out but the burger was a big boy with lots of flavour and a good, durable bun! All in all it was a lovely lunch and we left full and happy.
I am sure if we are nearby we will definitely drop by and see the guys at Touchwood again.