I have been craving coffee and cake ever since we went to opening night at Bibelot but it is proving to be just a popular as it's sister café Chez Dre and there has barely been a free seat in the house on a weekend! But we are up and about early on a Sunday, so early they are just setting up the tables outside and we are both in the mood for a little something in the sunshine. Bibelot, pronounced bib-loh – means a small object of curiosity, beauty or desire and they have quite a few!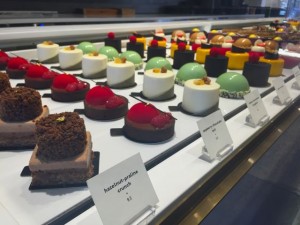 Glass boxes of glistening domes, bright colours, crisp pastry and wobbling mousse tempt you in calling "Eat me, go on treat yourself!!" Fortunately, even on the massive January health plan I have my glamourous side kick to eat most of the treats and I can modestly nibble on the end and savour my decaf long black!
There is so much to choose from, I was tempted with the tasting boards, if we were both on form we would have smashed it but side kick is only one man and he can only take so much! So choose from Salted Butter Caramel Éclair with caramel crème patissiere, roasted walnuts and caramel chantilly OR Blueberry and Lemon Cheesecake with blueberry compote, speculoos-praline biscuit, vanilla sponge, lemon confit and blueberry cream cheese mousse! And many many many more! But you get the idea!
Our one little tweeny cake for our treat was the beautiful Black Forest Éclair with caramel choux, cherry compote, vanilla bavaroise, crumble, chocolate crème and cherry Chantilly… WOW! There is so much work that goes into creating all of these beautiful works of art. I had a little nibble and it wasn't overly sweet with the rich cherries and chocolate – it was very lovely and was perfect with my coffee in the sun.
We will definitely be back for more cake very soon, when we can both be a little more indulgent! Plus did I mention they do ice cream……………..