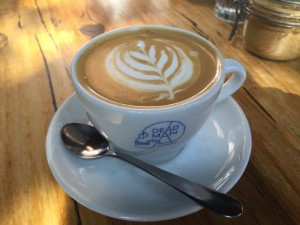 I have had a long standing love affair with Dead Man, early morning coffees before the long drive on the freeway, weekend early starts to try and get a table before the crowds and over the holidays when we can rock up and hopefully grab a table for lunch because I am not the only one with love for DME!
Breakie options range from the amazing pastries on the counter to the all day menu including toast, scones, croissants plus eggs anyway, bircher or you can get a bit more indulgent with waffles with either apple crumble and salted caramel custard or bacon and maple syrup………. oh food blogging can make a girl so very hungry!!!
Go green with the Green Pancake Mark 2 with green vegie pancakes, poached eggs and a broad bean, pea and pickled radish salad – seriously!! Or go Crispy Potato Hash with smoked pork neck, asparagus and poached eggs or Seafood Scramble with Blue Eye, smoked salmon and king prawns with chilli, coriander and a slice of toast. I loved the sound of the 'Campfire Breakfast' served in skillet!! With bacon, black pudding, tomato, mushrooms, hash and fried eggs with toast – mans business!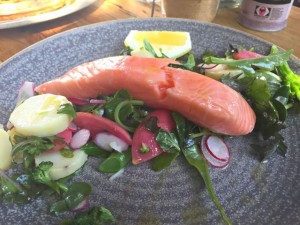 I went for the Olive Oil Smoked Salmon with kipfler potato salad, broccolini, pickled radishes and beets and Yarra Valley salmon roe……. though I don't think I had the roe on mine but it was delicious. I am not expert and poaching in olive oil must be a tricky one but this felt as if it needed a bit more towards the middle of the fish, where the edges were melting like butter the middle was still sinuous and harder to cut through but it was a beautiful dish and I loved the fresh pickles and potatoes.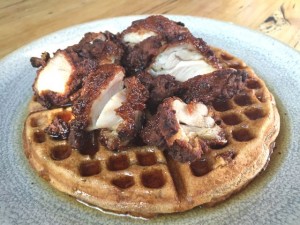 Ladies and Gents I present 'Roscoe's Chicken & Waffles' with buttermilk fried chicken, waffles and maple syrup………….OMFG!!! This was the most amazing chicken and waffles I have ever had, super crispy, savoury chicken on tender waffles with that super sweet syrup… it was just the dish of dreams (or diet nightmares!!!).
Loved it, always delivers and reminds me we are lucky to have DME in South Melbourne.