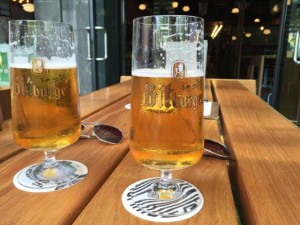 I love Hophaus, having spent a lot of time in Germany I crave a bit of schnitzel and wurst from time to time and Hophaus is one of my absolute faves. It's kind of hidden away on Southbank but find the right escalator and head on up to a friendly, fresh take on steins of beer and plates of hunking pork knuckles and sausage.
Enjoy a full menu across 'Kleine Speisen – Small eats including 'Bretzels' with whipped butter, Crumbed Cheese Sticks, Oysters – fried in Weissbier batter, Bitterballen or Hot Smoked Salmon Rillettes. The bigger meals are where my mouth starts to really water….. Chicken, Weiner or Jägers Schnitzel – ROCK my world! But there is also House Spätzle, Smoked Brisket, Wurstplatten and Crispy Pork Knuckle with Bavarian red cabbage, spiced apple and house crackle – crackle on!!!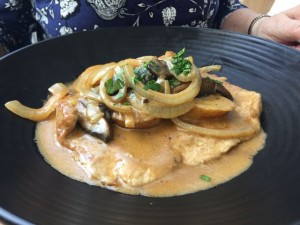 Jägerschnitzel – Panfried pork with amazing mushroom sauce is one of my favourite dishes in the whole world and I can do a pretty mean Jäger sauce but when I want someone else to do the cooking Hophaus is the best one I have found.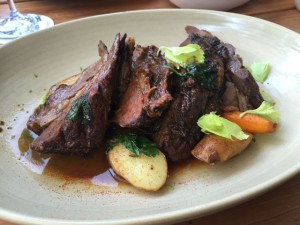 The spit roasted lamb shoulder with carrots and wilted spinach was enough for four! Or at least it made it onto three other plates to a very welcome taste!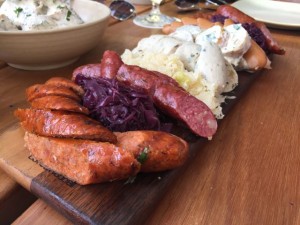 Hubby loves the Wurstplatten – Walmas signature sausages with German potato salad, traditional Löwensenf mustard which I LOVE and red cabbage – it is way too much for one guy but he always has a really good go plus I get to steal a bit to try!! Infact everyone had a share of this too!
It's a top joint for a drink and if you can get a spot on the balcony in the sun, over looking the river I would recommend you order plenty of food to share and stay there for as long as you can! #HappyPlace