Prawns with Ginger and Lime

On a health kick so lovely fresh seafood and packing in lots of flavour for a perfect Summer evening dish (using Slendier noodles for a carbo cheat!).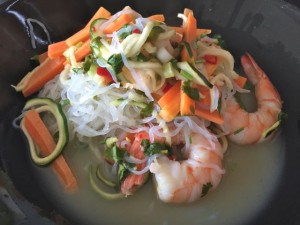 Ingredients;
300grams of cooked prawns, shelled, de-veined and ready to eat
1 whole red chilli – choose your heat
Half bunch of coriander (save a few sprigs for serving)
Sprinkle of salt
Juice of one lime (use the zest too if you love lime)
Thumbnail of grated ginger
Carrots, julienned
Zucchini (I used my spiraliser for the first time – it's great for this dish)
Rice noodles (or any noodles you like)
Method;

Put the aromatics (chilli, coriander, salt, lime, ginger) together in a bowl for ten minutes to bring all of the flavours.
Cook your noodles as per instructions. Once ready put to one side.
Place the prawns in the deep frying pan with the carrots and zucchini for five minutes and then add the noodles and dressing to the pan and combine everything together and warm through for another 5 minutes.
Serve warm in a deep bowl with fresh coriander.
Enjoy!