We came, we saw, we had burgers…. and then we came straight back and had the hot dogs too!! 8 Bit, taking up a cracking location in the CBD, though it doesn't have a huge amount of seating it does some of the best comfort food in town! We already hit them up for their amazing burgers, loaded fries but today it's dawgs and rings!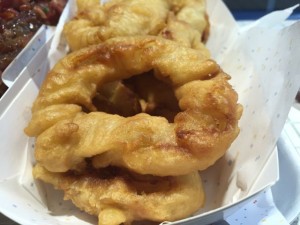 They were sold out of rings last time and I can see why! AMAZING! Not a hint of that slightly doughy, not quite cooked floury mess – these are the best rings I have had in ages, super soft lovely onion and crispy battered outside – hmmmmmmmmmmmm rinnnnngs!!!
So dogs – they all sound too good!
8BIT Dog with Smoked Frank, Grilled Onions, Pickle Relish, Ketchup, Mustard
WONDER BOY with Smoked Frank, Bacon, Grilled Onions, Cheese Sauce, BBQ Sauce
FATAL FURY with Jalapeño and Cheddar Sausage, Cheese Sauce, Chilli Beef, Jalapeños
1942 Grilled Bratwurst, Pickle Relish, Curry Ketchup, Slaw, Mustard Mayo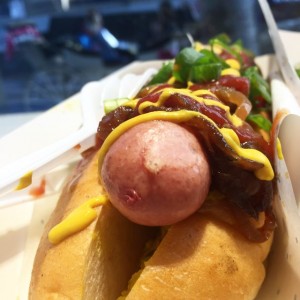 ALL a bargain under $10, there was no German sausage left for me but we went for a good old 8Bit Boy to see how these babies work on a basic level and they did not disappoint. Big wurst, good saucing, not too much onion – Perfection!.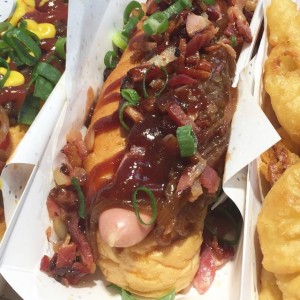 The Wonderboy was borderline too much for me with heaps of BBQ sauce and bacon and stuff going on but it was still delish!!
I don't really need to say we'll be back soon, hubby has been pining for 8Bit for most of Jan!!