Oven Roasted Mustard Pork with fresh apple sauce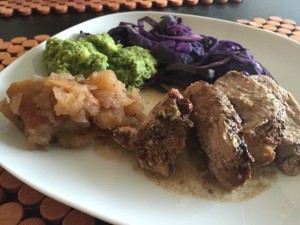 Ingredients;

Pork;
1 x 300gram pork fillet
Table spoon of dijon mustard
2 tsps of fennel seeds
Zest of one lemon
1/4 tsp of garlic
100ml Beef Stock
Apple Sauce;

2 apples cored and chopped
100ml of water
1/2 tsp of cinnamon
Pinch of salt
1/4 tsp of garlic
Method;

Pre-heat the oven to 180 degrees. Marinate the pork first for at least 20 mins – put the pork in a freezer bag with all of the other pork ingredients except the stock, rub the marinade in to the pork until fully covered and then seal and leave to one side.
Start the apple sauce – put all of the ingredients on a medium heat and keep the lid on for at least 30 mins, but check frequently to ensure the apples are going dry – add more water if you need until the apples and broken down and you can mush them with a wooden spoon. Leave to one side.
Place the pork in a small casserole dish and pour over the stock, roast in a 180 degree oven for approx. 40 mins, check at 30 to see if the middle is pink, if so go for another 10 minutes.
Serve sliced with the apple sauce, wilted red cabbage and roasted potatoes for a fabulous dinner.
Enjoy!