It's not quite our local but it's a good spot nearby for a bite tat or a drink with friends. There is a fantastic little rooftop bar if it's not full of dirty smokers and the food tends to be pretty good, though heading to the pricer end of pub grub at times. The seating in the bar can be limited at times especially if there are reserved tables or a big group in, but it you are lucky enough to get a spot the guys will look after you really well and there is a great wine list including some very reasonable options on tap.
The menu is a nice mix of smaller dishes to nibble on, always a good croquette, parfait, charcuterie and then larger dishes with fish pie, burger, steak, gnocchi and there are always some stellar specials. The special fish and dill croquettes were creamy, lovely balls of joy – I could eat them all!!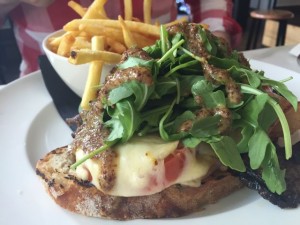 Hubbies open steak sandwich was impressive with bacon, tomato, piles of roquette and seeded mustard plus fries for us all to steal!!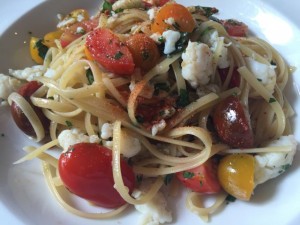 My spanner crab linguine was out of this world, perfect pasta with fresh crab and sweet cherry tomatoes – just beautiful.
It's an easy one to enjoy, I have ribbed the guys enough about their music tastes but still Enya isn't my idea of light lunch music!! We'll always drop by for a quick drink or a good feed!