Lucky Foodie was invited to a special dinner with a "playful menu designed by chef, Justin Wise (The Point, The Press Club), accompanied by an innovative cocktail and wine selection from our head bartender, Paul Ramsay" Who could resist? Big fans of The Dutchess since they opened a year ago and we had a fantastic meal of modern share plates and good wine with great friends – it was legendary! Back again for this special dinner, we were excited to see what was going to come out of the kitchen.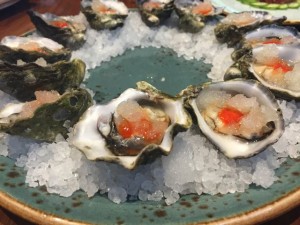 Beautiful, shucked to perfection oysters with fermented chilli and lime granita, I am usually an au natural girl but this gorgeous and I do love a bit of chilli and lime in my life!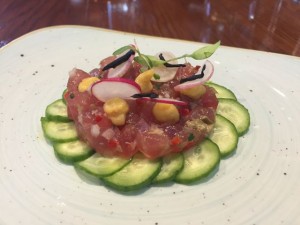 Tuna tartare with cucumber, black garlic and sea urchin dressing – wowser! Tiny little wafter thin slices of cucumber with a mound of proud tuna tartare, fresh, tasty and very pretty!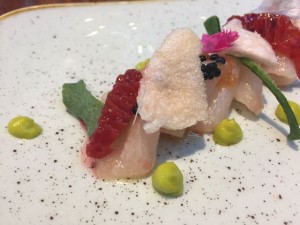 How good does this look? Cobia fish with nuoc cham, finger lime, avocado and prawn crackers- a sensational dish, stunning presentation.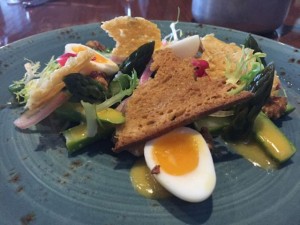 Asparagus with quail egg, candied walnuts and hollandaise is a plate full of summertime, light, fresh and if you were the vegetarian at the table you would feel pretty special but then this arrives….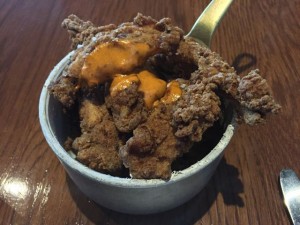 Fried chicken with Cajun sauce…. forgot the vegetarian this is THE best chicken, crunchy, crispy, spicy, naughty and completely delicious.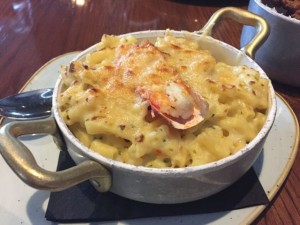 AND then….. King crab mac 'n' cheese…… O…M…G! Cheesey, creamy macaroni with chucnks of crab and a grilled cheesey crab claw on top. My mouth is watering as I type!!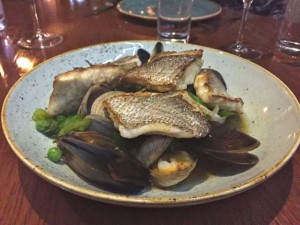 Baby snapper with mussels, big fat juicy clams, spring vegetables and a lovely crustacean broth, I could eat this dish everyday it was so good. Perfect fresh seafood, prepared to show their best and presented proudly.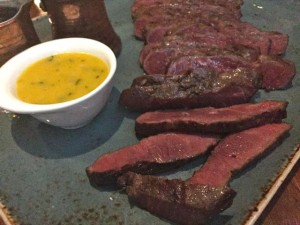 Robbins Island Wagyu flat iron, looked like a cave mans dream dish but it was a bit disappointing and didn't smash down on flavour as expected but it was lifted with the pepper sauce.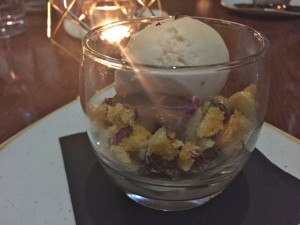 And then dessert! It has been one hell of a meal and we are all getting full but don't worry because dessert goes in the other stomach!! Violet crumble with chocolate aero, honeycomb that concretes itself to your teeth and violet ice cream, playful, pretty, decadent!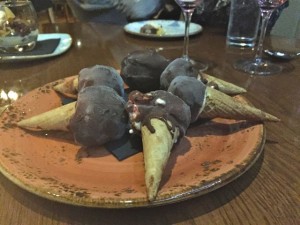 And then there was homemade choc tops! How cute?
We had a incredible dinner and a lovely night, I recommend you get down there for that chicken…. and the mac 'n' cheese… and the snapper… and the….. all of it!!!