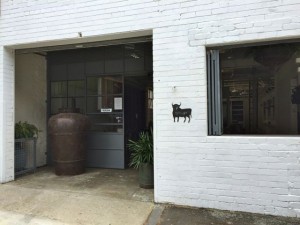 Hmmmmm meat! And Meat just down the road, Texan BBQ style meat just down the road And with a Vietnamese twist!! Meatworks has only opened recently, after spending 18 months converting an old garage into a peaceful meat-retreat!! The fit out is lovely, white washed walls, old style wooden tables and chairs and lots of space and light. When we found out they were opening on Saturdays from December we were straight down to try some of what they describe as;
"Whether slow-roasted, braised, or smoked to mouth-watering perfection…Meatworks is a pleasure palace of meaty goodness."
The menu is quite clever with some serious meat going on but then also out of left field a tofu dish or a salmon salad. Dishes to make your mouth water like Sweet Smoked Salmon and Pomegranate salad with fresh mint, cucumber,buckwheat and freekeh or Pulled Pork burger in a soft milk bun filled with pulled pork, dill pickles, melted Swiss cheese,chipotle mayonnaise and house slaw YUM!!
But let's be serious we are going to have to have the Smoked Meat Platter and that's not debatable!!…………….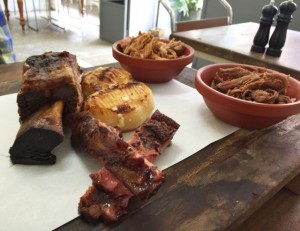 10 Hour Smoked Brisket, Sticky Lamb Ribs, Pulled Pork, Braised Beef Ribs,Smoked Hassel Back Potatoes, BBQ Sauce, Tomato Relish, House made Chilli sauce all for just $24…..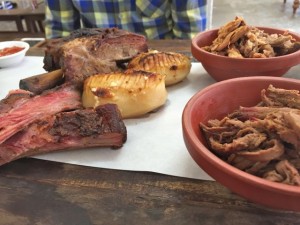 Soooo good!! Those spicy lamb ribs, all perfectly rendered down into gnarly little meaty bones to gnaw on and then the massive beef rib that you can just pull the bone out and then flake the meat apart. Loved the smoked potatoes and the sauces and to be honest even with two of us this was one hell of a dish to finish with the pulled brisket and pork too! AMAZING!!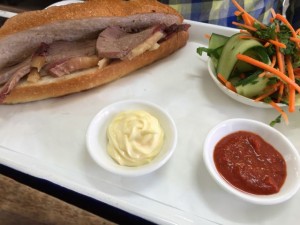 We obviously didn't need another dish but we foodies love to try a few so we also have the Vietnamese Baguette served with smoked brisket, pickled carrot, cucumber, Asian herbs, chilli sauce and kewpie mayo in a super lovely crisp baguette….. perfection!!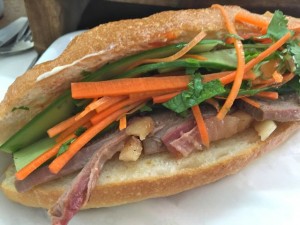 We loved this place, their coffee machine is all ready to go now and fingers crossed they are hoping to open in the evenings from February 2016 – we know we'll be straight there if they do!!