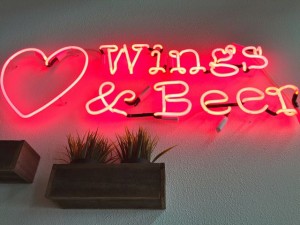 Ooonnn the wings of love…….. !! Ok bad theme tune but we were all whistling it when we were there!! And they are wings of love…… and glory!! Our new chicken spot has opened on Clarendon Street and we were straight there with a few friends to order up a platter of spicy, finger licking fun! It's chicken and beer, astro turf floor, cute fit out, friendly service and by the time our order arrived there wasn't a free seat left.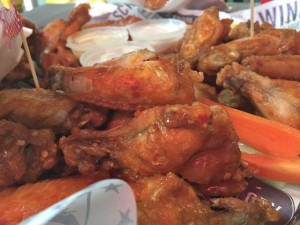 Offering chicken with several options – pick your size, take some friends and order the 30, 40 or 50 piece platter or you can go a combo meal with 4, 6 or 10. Then you choose your wings – original, boneless or vegetarian…. Seriously people there will be no boneless or vegetarian we want Wings and Beer!!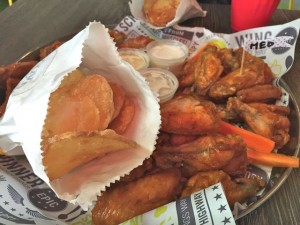 Flavouring your can come in hot, medium, mild, Cajun, lemon pepper or honey – 30 pieces comes with three flavours so we went hot, medium and mild – too easy!!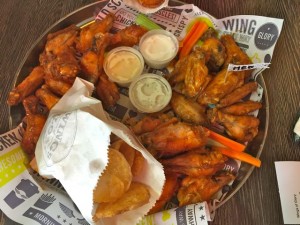 Your 30 piece platter comes with two serves of their fantastic homemade chips and your choice of seasonings and dips with ranch, blue cheese and honey mustard… you just need to then choose your beer and the boys loved the red plastic cups of beer on tap.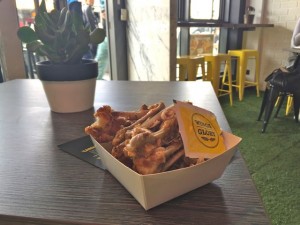 It's a top place, wet wipes at the ready you can get as messy as you like here, you're not doing it right if you don't have sauce on your cheeks!! The wings were great, I reckon the boys could have smashed another 10 but we had to save room for dessert!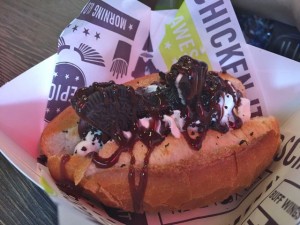 Ice cream hot dog! Little brioche bun stuffed with ice cream and oreos or…………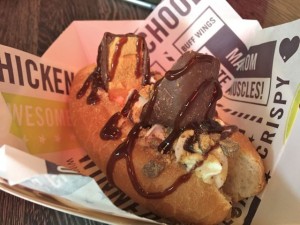 Honeycomb! Too naughty not to try!!
It's a top spot, I can see use spending a lot of time here and taking a sneaky batch home too! Wings of Glory you rock!!