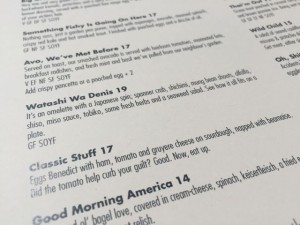 Still one of our favourite friday lunch spots you can always guarantee a friendly smile, endless sparkling water and a menu that has a little of everything on it.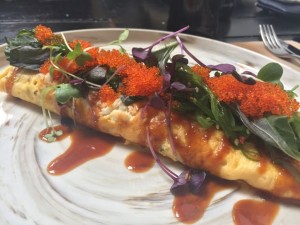 Watashi Wa Denis is a sensational dish, a Japanese omelette with spanner crab, shichimi (seven-flavor chili pepper), mung bean shoots, alfalfa, shiso (Asian herb), miso, tobiko (flying fish roe), fresh herbs and seaweed salad. Ok so I needed Google translater to look up a few of these but I have learnt something new and had a incredibly tasty lunch. There was a lot going on in the dish and the crab may have gotten a bit lost but it was still a top dish and all those flying fish roe popping in my mouth made me a very happy foodie!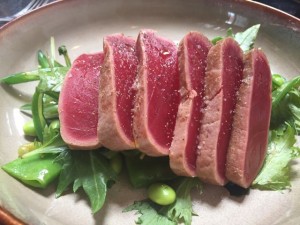 The 'I'll have what she's having" – freshly seared tuna with edamame, snow peas, green beans, shiso and muzana leaves, tossed in ponzu and lemon olive oil dressing – fresh, vibrant, gratifying and tasty – winner!
It's a top space, they are both having a good time but are incredibly serious about their food, a winning combination for those lucky enough to eat there!