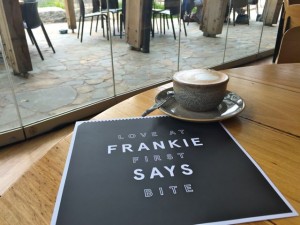 Frankie Says – relax, have a coffee and enjoy some beautiful views in a sensational setting. Just a stones throw from bustling Richmond and the heady heights of Ikea you can escape the concrete jungle and find this little oasis by the river. It's peaceful and tranquil and you can even have your breakie!
We were lucky enough to be invited down by the guys and we had met previously at the launch event so feeling very spoilt and excited to see the final Frankie Says in all it's glory. The thing that stands out for me for the team behind Frankie Says is the level of detail. Everything is carefully thought through and they have built a really strong brand behind them and had a little fun along the way.
The menu is easy going, pancakes, porridge, eggs for breakie with sides of bacon, avocado, halloumi, prosciutto or mushrooms and then lunch goes into some fab sounding pizzas, meatball ciabatta, a delicious sounding chicken burger and squid ink spaghetti.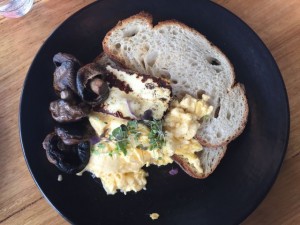 Scrambled eggs with mushrooms and halloumi – delish, Damn good eggs, fluffy and just on that edge of liquid to solid. Grilled halloumi and mushrooms and toast – just a perfect dish.
Helloooo Frankie! Buttermilk pancake with vanilla mascarpone, seeds and fresh berries, presented beautifully, vibrant and full of colour, the pancake is fluffy and so lovely, fresh, sweet berries and rich mascarpone. Total food envy on this one!
It's a great place to be, if you can hunt out Frankie Says you'll definitely reap the rewards. It's a happy place to kick back and relax.