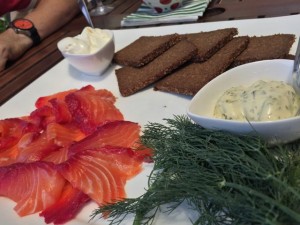 Beetroot, Dill & Orange Cured Salmon

Amazing dish just a few aromatic lovely fresh ingredients and big piece of fresh salmon and 3 days later – you have yourself something everyone will think you slaved over for days or bought from a very expensive store!
Step 1: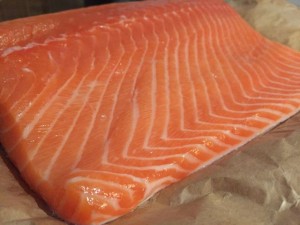 Take some amazing fresh salmon, 1 kg fillet with the skin on and ask the butcher to ensure all of the bones are out so you don't have too but worst case make sure you run your hand along the non skin side and if you feel anything sticking through just pull out with a pair of bone tweezers or something else you can get a grip with.
Step 2: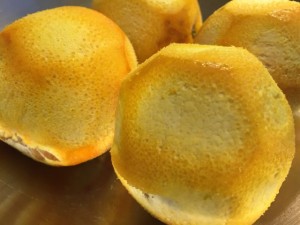 Zest ten oranges! It takes a bit of time but it is totally worth it, the kitchen smells fabulous and it really comes through in the flavours. Put 5 Beetroots, skin on into the food processor to grate them – much easier than trying to grate by hand and it keeps the mess contained!
Step 3: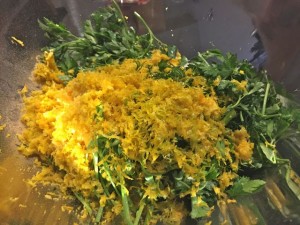 Mix together your aromatics and curing ingredients to make an odd kind of dressing!
1 cup of caster sugar
1 cup sea salt
1 tablespoon of white pepper
Orange zest
Grated Beetroots
1 bunch parsley tear up roughly
1 bunch dill tear up roughly
Just get your hands in there and turn all of the ingredients until they look combined.
Step 4: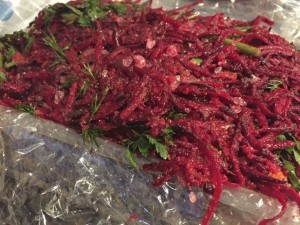 Take a large container such as a big tupperware or baking tray that will fit the salmon in reasonable snuggly and at least 1 1/2 inch deep to contain your juice! Lay a couple of large pieces of cling file into the container – roughly 60cms in length each and lay in a cross so you have a spot for the salmon to lay in and then take half of the curing mix and layer in the bottom onto the cling. Then place the salmon skin down and slather on the remaining cure over the top, it looks so pretty! Wrap over the cling snuggly so he is all tucked in. So you are ready to cure, place another tray or tupperware container onto the top of the wrapped salmon and place a couple of tins to weight it down and then it's off into the fridge for at least three days.
Note: You will find a lot of juice starts to come out, all purple and dangerous so within the first hour tip out the juice and then check each morning and evening until the juice slows and you don't have to worry about a purple tidal wave when you open the fridge!
Step 5: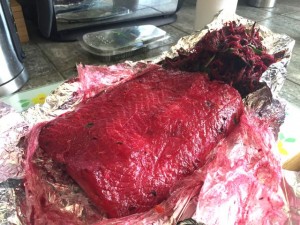 Ready to eat! Unwrap your salmon carefully and scrape the cure off with your hands or a spatula and discard. Wipe any remaining cure off the salmon top and then we are ready to go. Slice at an angle across the edge of the salmon in super thin slices and as you work across the salmon start to slice down and at an angle against the skin so you are left with the skin whole and still attached to the rest of the fish – you don't want to eat the skin!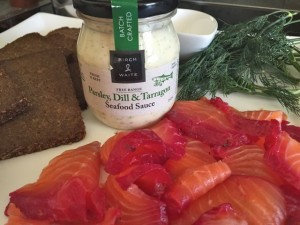 Serve your beautiful, purple tinged salmon with fresh dill, pumpernickel bread and either a light sour cream or this lovely Birch and Waite Parsley, Dill and Tarragon sauce from their range of fantastic seafood sauces (which they were kind enough to send to us to try over Xmas).
Enjoy!
Recipe Inspiration – Friends of EB