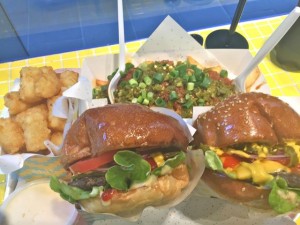 Happy Burger Day!! 8Bit saved me a trip and brought their infamous burgers to Melbourne CBD and we couldn't wait to get down there and try these much celebrated best burgers in town. Set up in an old grocers in prime position on Swanston Street there are about 20 stools that you might be lucky enough to grab otherwise it seems to be a heavy trade in take away. The burger gods were smiling and the crowds parted and two stools miraculously came free!
So what to have? 8Bit is keeping it simple – Burgers, Fried and Dogs. Burgers span the usual – 8Bit with Cheese, Afterburner, Golden Axe crispy chicken, mushroom or you can start to double down with the Double Dragon and a special triple patty Donkey Kong burger I have heard rumours of! The dogs have some pretty tempting options too with simple 8Bit dog with smoked frank, Grilled Onions, Pickle Relish, Ketchup, Mustard – Bargain – $7.50. The Wonder Boy with Smoked Frank, Bacon, Grilled Onions, Cheese Sauce, BBQ Sauce a spicy option with the Fatal Fury and one I have my eye on with the 1942 – Grilled Bratwurst, Pickle Relish, Curry Ketchup, Slaw, Mustard Mayo – maybe next time, we are all about the burgers today!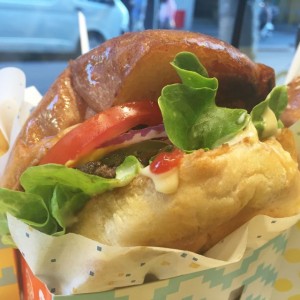 The 8Bit with cheese is perfection – Beef, Tomato, Lettuce, Red Onion, Pickles, Mustard, Cheese, Ketchup, 8bit Sauce and a bargain at $9.50. Burger bun is shiny, holds together perfectly to the last bite and helps deliver one of the best burgers I have had this year – it's definitely going into the top 5!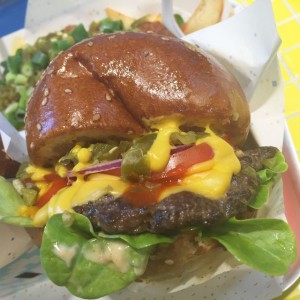 We ordered the Afterburner with Beef, Tomato, Red Onion, Lettuce, Cheese, Chilli Sauce, Jalapeños, Mustard, Chipotle Mayo – however I'm not sure if this was actually another 8Bit with cheese or the loaded chilli cheese fries were so good that the Afterburner didn't seem so spicy afterwards? Either way it was still fabulous!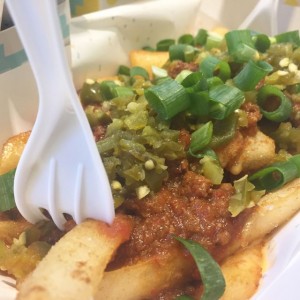 Chilli cheese fries were so good!! Beer battered fries, Chilli Beef, Cheese Sauce, Jalapeños, Spring Onions yum yum yum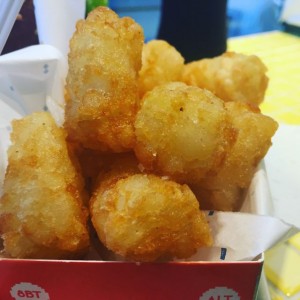 Potato gems – perfect little crispy lovely mini hash browns – can't argue with them!!
It's a great spot, it's super busy and the air con isn't coping but the burgers are right up there with some of the best and will be a little bit too tempting after a shop in town to not drop by and snaffle a burger or dawg! Yumminess all around!