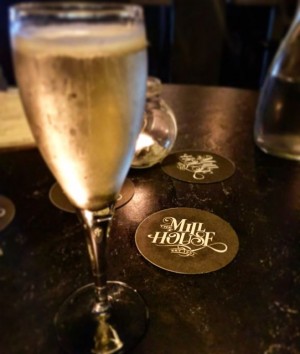 If you go and have a look at The Mill House Instagram you will see not so long ago this was a mere shell, a ripped out space with just the walls standing and the transformation into the cosy bar it is today is pretty impressive. You come to the top of the stairs on the street and you can't really see what is happening down in The Mill House but head on down and you'll be greeted by subtle lighting, cosy booths, big wooden tables and a cracking DJ pumping out those tunes to make you shake that ass!
It's a great bar, plenty of space and a good choice of reasonable wine and beer options. Plenty of room to move around and like I said… that DJ is real good!
But we were invited to come and find out what Chef Augustin is up to in the kitchen and how he has brought 'bar food' to a whole other level. Sure you can still get your good old pizza or a bowl of fries but Chef has got some beautiful other dishes for you to enjoy and they are a step up from your everyday parma.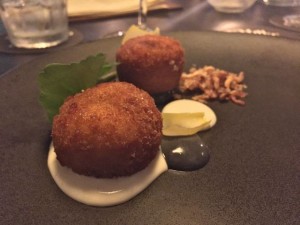 We started with the corn croquettes off the bar menu, served with squid ink aioli were sensational. Perfectly crisp balls with a luscious, corn and potato filling. Utterly divine with the thick, unctuous aioli.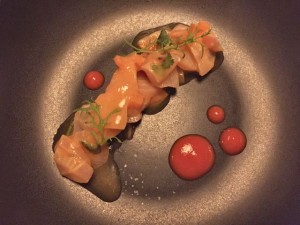 Kingfish Ceviche with coriander, chilli, onions and Tiger Milk is so fresh, thick, beautiful pieces of kingfish perfectly cured and with a damn good hit of that chilli sauce – So good!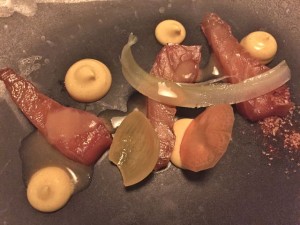 The Citrus cured swordfish was almost caramalised and again top quality ingredients that made these few ingredients come together in complete harmony.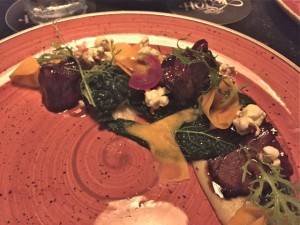 Lamb Cushion, slow cooked and with an intense flavour, teamed with the picked pumpkin, greens, puree and popcorn it was again just a thoroughly beautiful dish.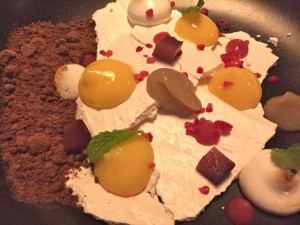 Deconstructed lemon meringue with poached pears, chocolate soil and the sweetest lemon curd, I am not a huge dessert fan but this was really lovely, thoughtful presentation and an explosion of flavours.
Thanks again to Chef Augustin for making our night so special, we felt very lucky to have been treated to such a lovely meal.