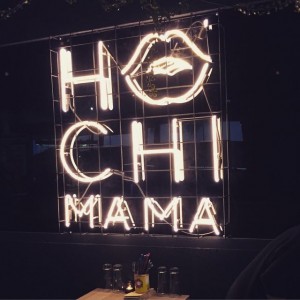 HoChi Mama is one hot mama! We were so lucky to be wondering around on a Saturday and come across this little beauty and barely open a week we could still get a seat… before the word gets out! It's a great fit out, bright, quirky, fun and it's a really nice atmosphere with friendly staff and a cocktail list to get you excited!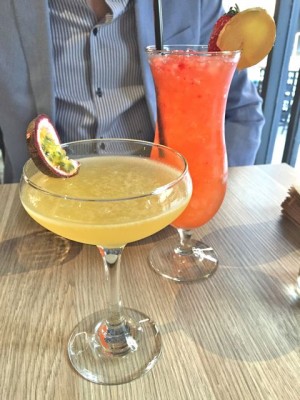 Passions in Paradise with spiced rum, frangelico, vanilla liqueur and lemon juice – gorgeous and the Berry Nice with ginger, strawberry, luxardo and alize…. so good, not sure what half of that is but it all comes together for a really good start to dinner.
The menu is a wonderous adventure in Vietnamese with paw paw, spring rolls, banh mi, pork belly, short ribs and the famous 'pho-plings'……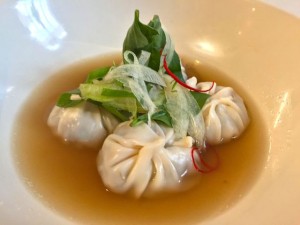 How pretty are they? Pho broth with little dumplings filled with braised oxtail and pork mince, Vietnamese mint, fresh chilli and onion – they are DIVINE!!! I could have eaten them all to myself!!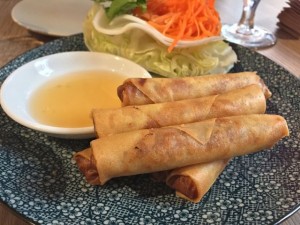 Oh my favourite – Spring Rolls, these were some of the best! Little tightly rolled cigars with pork and a great nuoc cham dipping sauce and fresh lettuce and herbs to roll with….. exquisite!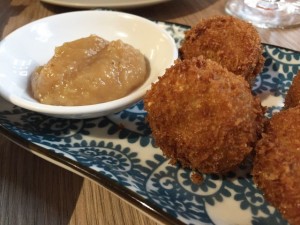 Pork croquettes, I am a sucker for anything croquettey and these were so good, pork, carrot and garlic coated in a super crunchy panko crumb and then a wicked pickled garlic dipping sauce – no vampires tonight!!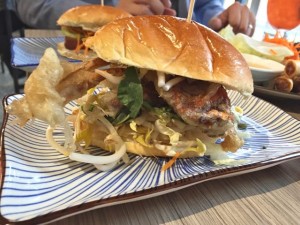 Banh Mi come with either pork or soft shell crab, so you can have one of each! The soft shell crab was beautiful, super crunchy little crab in his little bun with chilli, lime and Vietnamese slaw.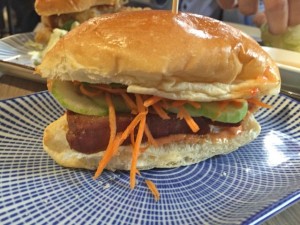 Crispy pork bellt banh mi with pickled vegetables, cucumber, fresh herbs and smoked chilli mayo…. Oh I love, love, love just that amazing mouthful of a mass of flavours that come together to create sheer heaven!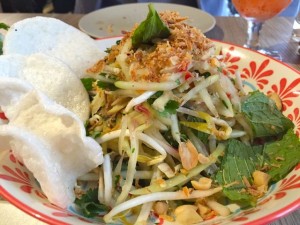 Slow braised short ribs with eggplant, nam jim dressing, cucumber, Thai basil, chilli and Vietnamese mint.
Sensational!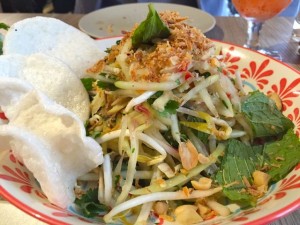 The perfect friend to that rich, deep, short rib? Green paw paw salad, a generous bowl of cherry tomatoes, peanuts, chilli, bean shoots, herbs, fried shallots and masses of shredded super fresh paw paw. Such a great dish, i could eat that every day!