One of my favourite restaurants near home, South Melbourne's Sugarcane is a good local Thai, BYO, friendly, reasonable priced and hubby's favourite fish cakes in the world! They have an extensive menu and there are so many great dishes to choose from, I love their pad thai and their curries but I also love those nights when everyone is happy to nibble with a cold beer and just order all the starters!!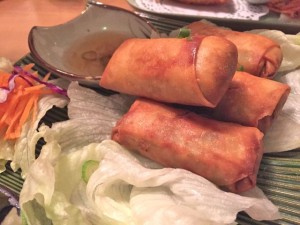 Duck Spring Rolls with diced roasted duck with shitake mushrooms, spicy mixed herbs and continental parsley wrapped in golden pastry are gorgeous, packed with loads of duck and flavour, not your average spring roll!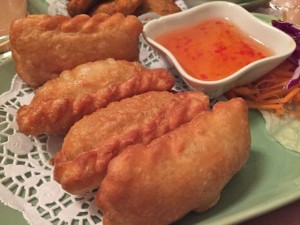 Curry Puffs with minced curried chicken blended with potato, onions and mixed vegetables, super crispy pastry filled with lightly spiced chicken – just perfect.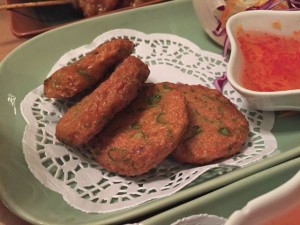 Hubby's fave Fish Cakes with blended fish, green beans, red curry paste and lime leaf. They are firm and spongy and just the right level of spice – perfect with a cold beer.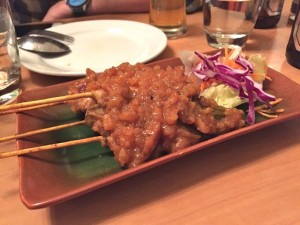 The Chicken Satay is legendary with marinated chicken thigh fillet strips grilled to perfection so they are still succulent and not dried out and topped with their 'nearly world famous peanut sauce' – it should be world famous – it is immense!!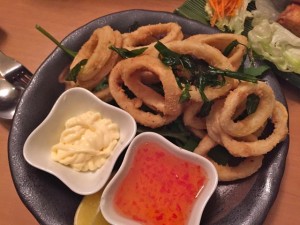 Salt and Chilli Squid – fresh squid, seasoned with salt and chilli, lightly fried on a bed of garden salad with sweet chilli sauce, mayonnaise and lemon wedges – it's pretty good!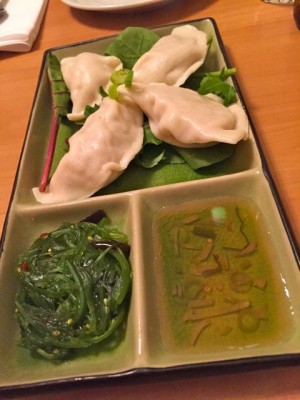 And finally the steamed Chicken and Vegetable dumplings with side seaweed salad and ginger sauce, perfect floppy dumplings with loads of filling and flavour – you can't go wrong.
Love this place, can't stay away, infact I could go their Massaman RIGHT NOW!!