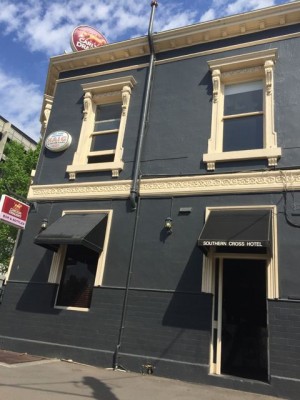 Welcome to South Melbourne Hats and Tatts! It took a while to finally get here but it was worth the wait. Taking over the old Southern Cross Hotel, we now have a frat house! The dudes are pouring Samual Adams, frying up chicken and playing beer pong in the back. Ultimately it feels like these guys wanted a cool place to hang and are happy to share with the rest of us to enjoy.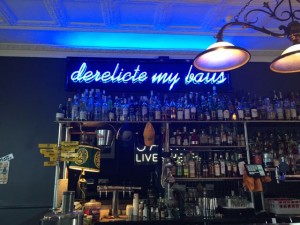 The decoration is eclectic, dorm room style with posters from all the classics like Cocktail, Back to the Future hightops behind the bar, a room full of baseball caps and WWF playing on the TV. It makes you smile and that is not something you can say about many places these days – everywhere else is so serious and 'styled' whereas Hats and Tatts just are themselves and though they have worked hard on the details they have had a chuckle as they did.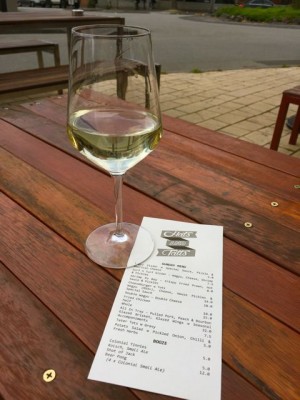 So lets get down to the food, there are plenty of places doing burgers and fried chicken these days but not many are doing it as well as Chef Woolard and his gang and I don't know any that are doing tater tots with the most immense gravy! The menu is text book American heart stopper with pulled pork, prawn poh boys, cherry cola chicken wings and a double wagyu that will rock your world.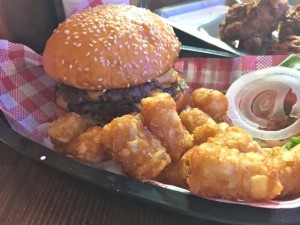 Look at that beauty! Now you know my thoughts on a good burger, we start with the bun – it must be fresh and the perfect balance of not too hefty that it disintegrates around your burger as you eat but not so dense that you taste more burger than bun. The burger – must be good quality, we can tell if you are packing it with filler to hide poor quality meat. The patty should be just the right depth and rosy pink in the middle. It's not how much meat you pack in it's the quality and skill of the cook that makes the burger taste the best.
Let's see another shot….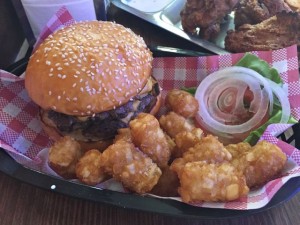 So good! These were taken over a couple of visits as hubby was craving that burger for days after the first one! So finally with my perfect burger, I do not need beetroot, fried egg, bacon, lettuce, tomato or a hash brown – I just want sauce and cheese and maybe a pickle – thats IT! Nothing to distract from the great burger inside.
SO how was Hats and Tatts? Perfect! It was one of the best burgers in town. The fact I had a double patty burger and didn't feel ill was testament to the perfectly put together burger, perfect light roll that held to the last bite, perfectly thin, good quality burgers, cheese and sauce – No messing!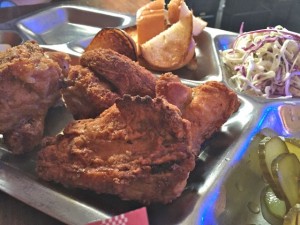 SO burgers were great, how was the chicken? OMG soooo good! Firstly it was moist, not that disappointing dried out cardboard that you get form some places, This was perfectly cooked – full of flavour and a thoroughly great dish to chow down on!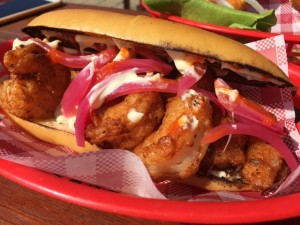 Look at that beauty! The prawn poh boy, we had one to share as I couldn't resist. Super big, plump lovely prawns, the lightest of batter, the spattering of hot sauce and it is making my mouth water so much as I type.
So there you go – do you need anymore convincing to get yourself down to see the boys? Open Wednesday to Sundays at the mo, it is my new favourite Sunday afternoon late lunch and beer spot. No frills but lots of fun.