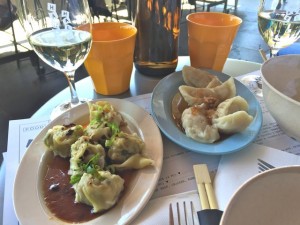 Chris Lucas' new baby in Windsor, Hawker Hall is a big old noisy hall of fun and food. We were nearby on a Saturday lunch time and rocked up with little expectation of getting a table. Inside was a 30 minute wait already however they have used every space possible and we happily took up a little table on the footpath and got a good, cold Clare Valley Riesling on the go whilst we salivated over the menu. Dumplings, satay, noodles, buns and curries, we were only popping in for a snack but it looked like you could dangerously over order here as everything sounds so good!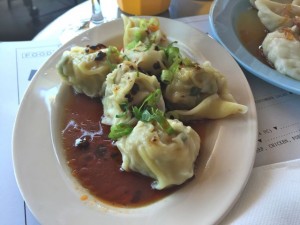 Pork and chive wontons with a brilliant chilli and black bean sauce, couldn't get enough of these wobbly, spicy little fun cushions!!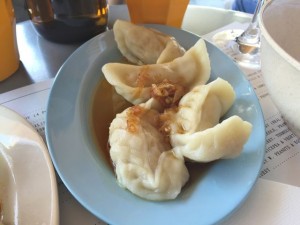 Prawn and ginger dumplings with soy and black vinegar sauce were great, big fat fresh prawns and little dumpling jackets – just dip and smile!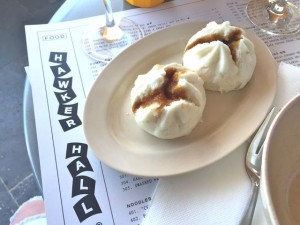 Char Sui buns were ok, didn't rock my world but they were nice enough.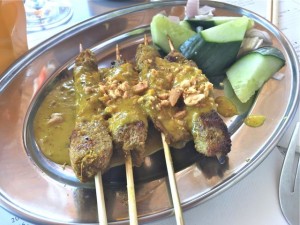 Chicken satay, a wonderful satay sauce, loved this, hubby through the chicken was a bit too dry but it was nice enough – we finished them anyway!
It was a nice stop off on a sunny afternoon, it was busy but the staff were really good and made sure everyone had what they needed included the weird people who kept changing tables… a luxury when everyone else is still waiting for one but the guys managed to track them down with their food… eventually!