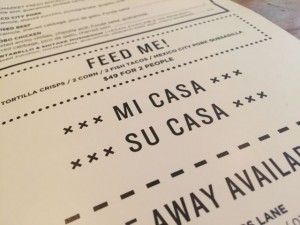 Fonda Mexican is a big space but you'll still need to get there before 6pm to grab a table, even on a cold Wednesday evening. There is a back area with table service but I grabbed a bright and cheery stripy booth in the front area where you order at the bar and they will bring your food out to you. The menu is jam packed with Mexi classics, quesadillas, burritos and tacos.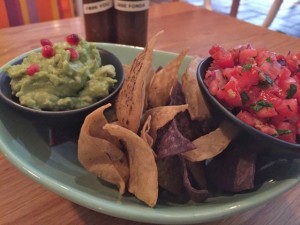 The white and blue corn tortilla chips with guacamole and pico de gallo were so good we had to order a second round. Perfect with a cold chardonnay and that pico was perfection with tomato, red onion and coriander – so good, so fresh and so tasty.
And after that…. we just ordered all the tacos!!
Oh baby, baby, fish tacos. Fresh rockling with spicy chipotle aioli, guacamole, pickled carrot, onion and shredded cabbage. Not my number one but a close second to being one of the best fish tacos.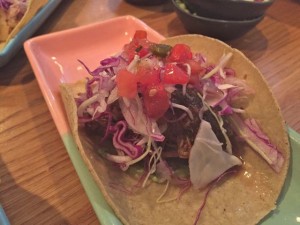 Braised beef with guacamole, shaved cabbage, pico and fonda salsa – totally succulent, falling apart beef with a whole hit of fresh and spice.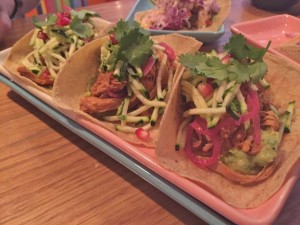 Mexico City Pork taco with guacamole, shaved zucchini, pomegranate and guajillo chilli – super tasty, super yummy, super good!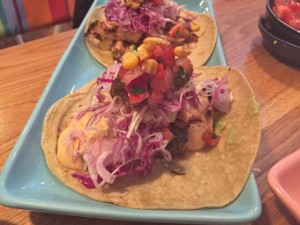 Adobo Chicken tacos with toasted ancho chillies, chipotle aioli, fonda salsa, guacamole, shaved cabbage, pico de gallo and charred corn – just a little pocket of so many great flavours.
It's quick, it's simple and if you like a little Mexican spice you'll always have a good time at Fonda.