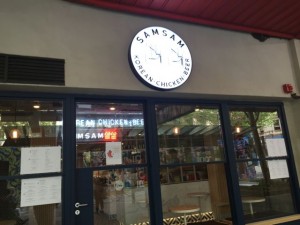 I love stepping off the tram in Melbourne and finding a new Korean Chicken and Beer joint has opened! Wanna try? Hell, Yes we do! No idea what used to be here but they have done a great job and it's a fair bit bigger than you think when you walk in. Kudos to the big gold shiny door to the ladies at the back and some clever mirror placements going on. The music is great and there is a really good buzz to Sam Sam as you settle in to get yourself some beers and watch the flames flying up behind the opaque glass wall to the kitchen.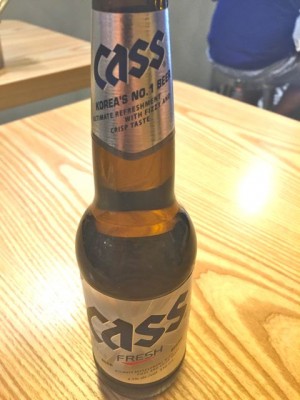 Strangely there aren't a lot of Korean beers to try and the taps at the front seem to be for water not beer!! But I am happy to try a Cass – Koreans number one beer and it's really nice. There is also more than just chicken on the menu. Soups, hotpots, bulgogi, sizzling tofu and a house salad are all there to accompany the chicken. For chicken you can have a full chicken or a boneless chicken (there is a half option!) or wings and then choose to have au natural or flavours include sweet & spicy, soy & garlic or hot & spicy.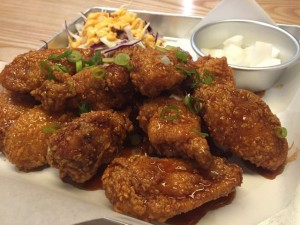 Went for the 12 piece wings plate in hot and spicy – it wasn't very spicy and was quite sweet and probably more than hubby and I wanted to eat on our own but we gave it a damn good go!!
We also snuck in the kim chi fries which were IMMENSE!! Shoe string crispy fries loaded with spicy kim chi, cheese, sour cream and apparently crispy pork belly though thinking back I don't remember any of that but it was still fantastic – you'll need a finger bowl after those.
This is a busy spot already so I don't expect a table will be easy to come by but if you get chance get in and enjoy there is a lot of good stuff in Sam Sam.