Albert Park Hotel – quite possibly the best place to grab a glass of wine and some lunch in the glorious sunshine which will stay right up until the end of the day. It's just a great place and they have made sure there are as many seats as they can get out there so you can enjoy. There is a real celebrations of beers here with plenty on tap and in bottles from all over the world with local as well as Spanish, Austria, Denmark, Germany and Japan all there just waiting for those thirsty boys! The wine list by the glass is very reasonable and you can get yourself a Victorian Riesling, an Italian Pinot Grigio, local Chardonnay and the ever popular New Zealand Sauvy B!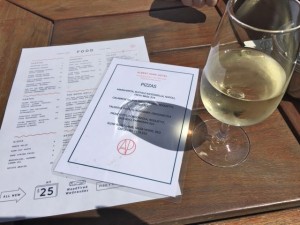 The bar menu is a good mix of sharing plates, salads, pastas and classics from the grill though the prices are varied with a parfait or croquettes at around the $10 mark, pizzas at $15 but Hanger steak from the grill with a side of chips will set you back $35! Even the APH Burger will be $30 with hand cut chips. However the Charcuterie board was fantastic….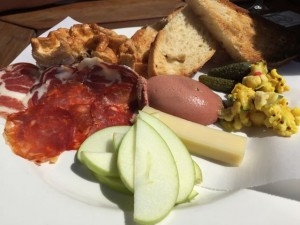 Packed full of all the good stuff for just $21 it was a perfect board to share with hubby with a glass of their cold Strathbogie Riesling. Firstly excellent call with the half a pork pie – hubby was ecstatic! There was some of that wonderful parfait – incredibly smooth and light and tastes so good! Slathers of a couple of the meats, pickled cauliflower, cheddar cheese with slices and apple and a couple of good hunks of toasted bread.
That is what I call a perfect Saturday!!