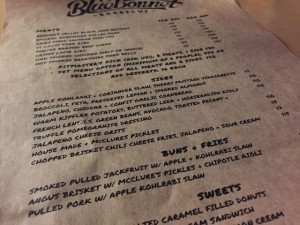 I'm dreaming of a hot, smoky BBQ …. With jalepeno sausage and Riverina, Black Angus Brisket, Smoked Berkshire Pulled Pork with the sexiest broccoli in town with feta, preserved lemon and smoked almonds. Plus the king of the slaws with apple, kohlrabi and coriander with a sherry mustard vinaigrette. Pop on a little cornbread with garlic confit butter on top and I think I know what a naughty boy dream might be like!!!!
Bluebonnet is exceptionally good, working out of their temporary home whilst they get their old spot back on track after a fire (don't blame the smokers!!) they are bringing food that my friend has fully admitted to eating at least once a week! If there is a lunch, dinner or meeting to be had he is to be found with a pile of brisket and sausage and a pint of cold beer.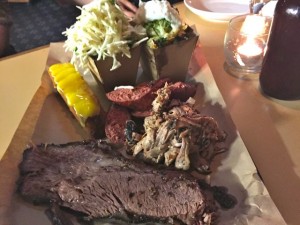 The jalapeno sausage slices were thick and meaty, the skin was that kind of tough, holds its own sausage and jam packed full of meat and flavour – YES!! Slices of Riverina, Black Angus Brisket just melt as you put the fork near them, so full of flavour and cooked to absolute perfection. The pulled pork, textbook amazing, super juicy and tastes sooooo good! I loved the sides, if you can make broccoli this damn sexy you deserve a medal – it's not often grown men are fighting over the last floret! And not just any old slaw, this was so good and didn't need slatherings of mayo to hide the sad wilting cabbage within, no this was crispy and proud!! Cornbread was delish, dry as cornbread is but with that thick, unctuous garlic confit butter it was the devils cornbread at work!!!
There is a house made BBQ sauce on the table that you will soon become addicted too, though everything has heaps of flavour already this is the perfect, sweet, sour, spicy friend to lift it to that next level – which is heaven obviously!!!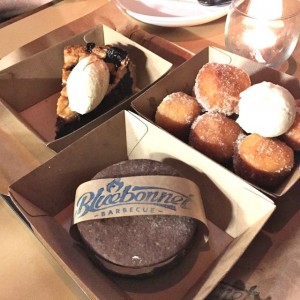 Desserts – I have some wonderful friends that generally, when eating out will always share, go for the feed us menu and choose all of the desserts with four spoons please!! This night was no different but it would be cruel to make us choose between the bacon and smoked maple ice cream sandwich, donuts with jalepeno and strawberry filling or good of blueberry pie with fresh cream…….
OMG, Call me baby! Donuts of joy, all those little sugared balls just for us and a lovely sticky strawberry sauce, no real jalapeno hit but still decadently delightful! The ice cream sandwich, deftly cut into four it was a super thick oreo style biscuit with thick, rich ice cream….. hmmmmm
The blueberry pie was ok, it was cold which seemed a bit wrong and I think warmed up the blueberries would have been a bit mushier and the crust a little softer but it was still quickly divided up and inhaled!!
We love Bluebonnet and we have to come back again very soon.