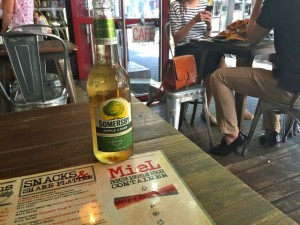 When on tour a foodie must take advice from those locals in the know and use their limited time to experience the highlights of the local culture! Or when your mate says there's a cute red container converted into a burger bar, you accept that very clever suggestion and go and see the boys in Miel, Brissie.
Located slap bang in the CBD and with barely 12 seats to grab, Miel burgers smells the part and from the pictures we have been drooling over on Instagram we are in for a big, fat burger treat!
The menu is set up as a 'build your own' but to be honest there were just too many choices for a Libran so I went for simple is best with the classic Miel beef pattie burger with grass fed beef on a brioche with lettuce, tomato, onion jam, bush tomato chutney, dill mayo, tasty cheese – hold the bacon.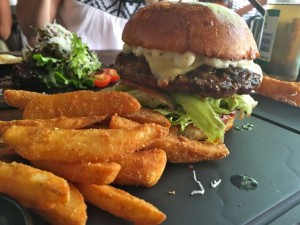 OMG its beautiful, glistening pattie, proud bun, trendy slate plate and a modest amount of beer battered fries….. lets do this!!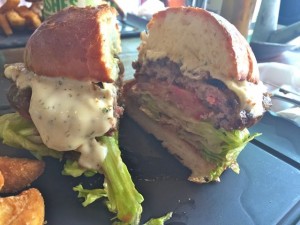 It is a big boy, I did a delicate lady cut in half to make it a bit more manageable but to be honest once you get a grip on this baby you don't want to put it down and you almost can't. There is a fair bit going on in there so there is a lot of juice dripping, burger sliding going on and I gave us trying to wipe myself down until the end…. A baby wipe would have been a great idea, it was that kind of wonderful, messy, yummy burger that you can still smell on your hands hours later…. In a good way… sort of!!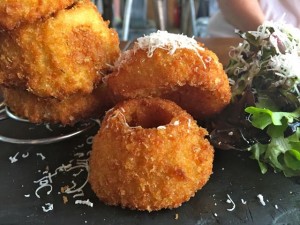 And if that wasn't enough reason to go to Brisbane then let's talk onion ring tower – big rings, meaty and plump onions, super crispy coating and a sprinkling of parmesan. Possibly the best onion rings in the world! Big Call – I made it!!
Loved this little spot, I would be here far too often if we lived locally! I would have to put it on my top five with Melbourne's Royale Bros, The Arbory, Fat Bobs and Brother Burger.