Firstly Foodie – get the name right! Spent all week telling people I was off to Brother Rambo for dinner and no one had the heart or kindness to correct me…. It's Botherambo…. Why are they Bothering Rambo, he's a tough cookie you really shouldn't poke the bear!! Ok it's on Botherambo Street….. let's just eat!!
There are no bookings, boo! But you can put your name down for a table and head up to the rooftop bar at The Corner for a cheap and cheerful wine before that magical text arrives and you down your pinot and get to Botherambo and start the feasting. I am lucky to have great friends who love me to create their own 'Feed Me' menu for them and this means they get delicious food without having to make any decisions and I get to sample all the dishes I am craving! Deal!!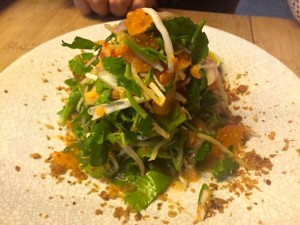 The Cold Smoked Ocean Trout with green papaya, young coconut, kaffir lime, chilli and Yarra Valley roe is mega healthy and super tasty, fresh, sweet, sour, hot…. Divine!!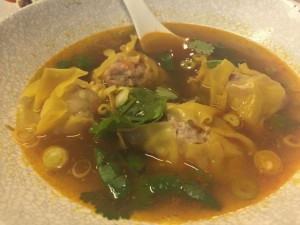 The Pork and prawn dumplings are a total winner – succulent, fragrant with lemongrass broth, dried scallop nam prik, coriander and garlic chips – probably should have ordered two of these….. or one each!!!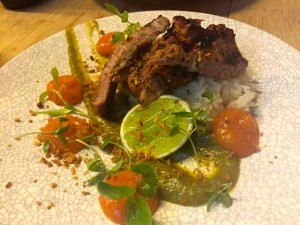 Crying tiger beef with Cape Grim Tenderloin, ground rice, chilli, pickled carrot, cucumber, nam jim jiew – perfectly cooked beef with lots of lovely chilli – my fave!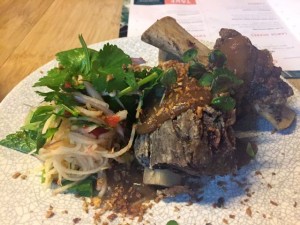 Crispy beef short ribs special with kohlrabi, jack fruit, chilli, and nam jim jiew are spectacular, falling apart and then with the fruit and spice – just a perfect dish.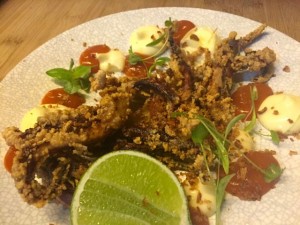 Fried Squid Tentacles with my two favourite friends – sriracha and kewpie mayo – sooooooooooooooooooooo good!!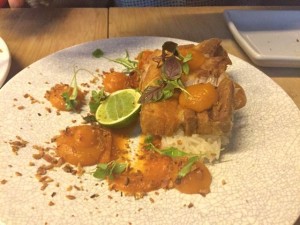 Crispy Pork Belly with nam jim sap, sticky rice, nam prik pla raa, crispy shallots and a squeeze of lime – so good!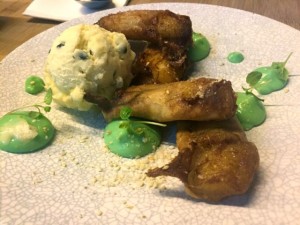 Banana spring rolls – so good the guys ordered a second round! Like no other banana fritter you have ever had! With kaffir lime, palm sugar, salted coconut pandan cream and passionfruit ice cream – Amazing!!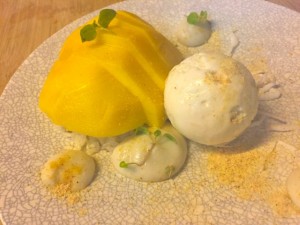 Mango sticky rice with new season mango, pandan sticky rice, coconut ice cream and roast mung bean, refreshing, creamy, comforting and one of my favourites.
The service is ace, this place is that perfect vibe of friendly, fun, easy going and damn good food.