It's too cute! I read an interview with Adam Wilkinson about his new Richmond café Denis the Menace and he said something about too many cafes are taking themselves too seriously and he's right! Denis is putting the fun back into life and serving a great coffee, amazing food and service with a genuine smile. The space is really lovely, lots of reclaimed timber, big wooden booths with kumquat trees and herbs growing in between, Mr Men sugar mugs and a playfulness that extends into the menu.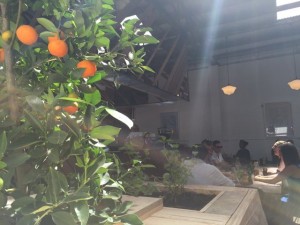 You can't help but get excited about this menu (it you don't then someone needs to check your pulse!) it covers so many bases it makes life all too hard when you have to pick just one! Everything has a thoughtful, smile provoking name – The Big Green Food Fight – salad with kale, broccoli, avo, pistachios and buckwheat. Avo, We're met before – smashed avocado, heirloom tomatoes, breakfast radishes and fresh mint on toast. Running Late Roti – Scambled eggs, bacon, spinach in a fresh roti. Watashi Wa Denis – Japanese omelette with crab, bean shoots, alfalfa, miso and fresh herbs. But it's not all super healthy you can get Cowboy Bob's Burger with wagyu beef, bacon, melted gruyere, pickles and sriracha mayo or Blondie Street with pulled lamb baguette.
Mouthwatering!!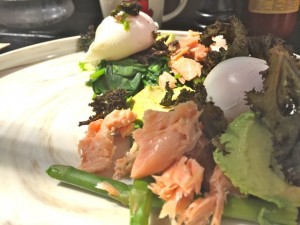 I went for the Something Fishy Is Going On Here – Hot smoked trout with asparagus, spinach, crispy kale, pea puree and two yolktastic poached eggs.
It was super healthy and super tasty – I totally didn't feel like I hadn't had the lunch I really wanted… well the burger would have been immense I imagine!! Lets take another look at those eggs……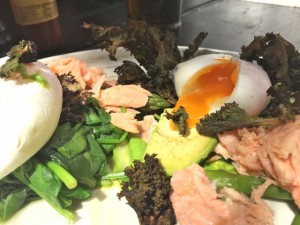 Soooo goood!!!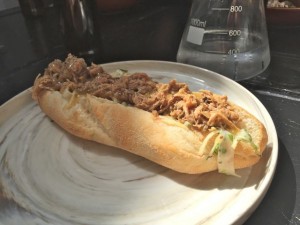 The Pjork Roll with slow cooked pork, shaved pink lady apple and fennel look bloody amazing and came with lots of good yummy noises.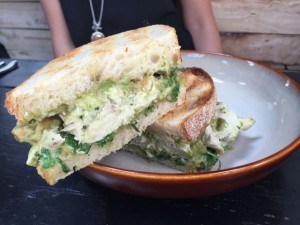 The Chicken Sanga with spicy poached chicken, coriander, jalapeno mayo, crushed avocado and rocket on sourdough looked like a perfect execution of a pimped up chicken sarnie!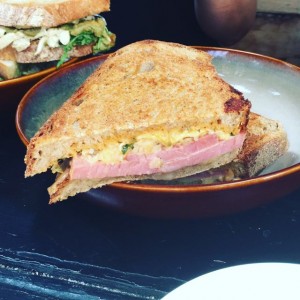 The Putin' There, Pal (Reuben) with corned beef, sauerkraut, cheese and Russian dressing on toasted rye was generous and rather a handsome looking sandwich.
The service was great, it was just a fabulous place to enjoy a delicious lunch and we all left very happy!
PS They also have those posh taps with fizzy water at the push of a button and into your medicine bottle carafe!!