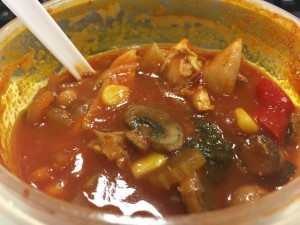 This is one of those dishes you make on the fly with some fresh ingredients and a bit of scraggy old roast chicken and it creates an amazing, wholesome and delicious soup. Add chilli to your taste, I like it hot so I went for a lot but this will still have great flavour if you pull it back.
Ingredients;
Tablespoon of olive oil
¼ Garlic
Chopped Jalapeno and red chilli – get as hot as you like it's to your taste!
Sliced Red Onion
Tsp Smoked Paprika
Tsp of Mexican Spice mix – I love the Peter Watson one
Small tin of four bean mix
½ tsp of Cumin
Pinch of chilli flakes
S&P
1 Jar of passata (good quality – check the ingredients and get the one with the most tomatoes and the least other uglies)
Half Bunch Fresh Coriander
Two Celery stalks chopped
One red capsicum chopped
Cup of Sweetcorn
Cup of Mushrooms
Leftovers of a roast chicken – how much? Depends how greedy you were for lunch!
Method;
– Heat up the oil and add garlic for 10 seconds and then add red onion, chillis and spices
– Add passata and refill jar with 2/3 water, add to the mix with the beans and half the coriander and bring up to simmering and leave to build flavour for 30 mins
– Add corn, capsicum, mushrooms, chicken and coriander, leave to bubble for another 20 minutes and then cover and leave to cool and serve with crusty bread, crunchy tortilla strips or fresh avocado slices and warm tortillas
Ole!!