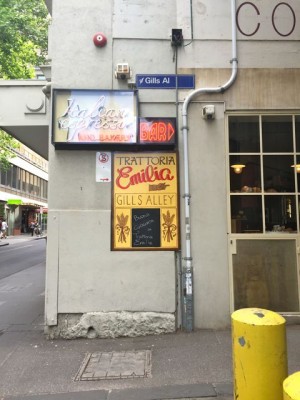 Emilia Trattoria has taken up where old favourite Gill's Diner used to be in the middle of the bustling CBD, this old conversion always has a cool and welcome sereneness to sit back and imagine you could be anywhere and definitely not a work on a lazy Thursday afternoon. We are having a decadent day off in the city and after a hard days touring and shopping we get to Emila for a highly anticipated lunch – bring me all of the pasta!!
Emila was inspired by the owners love of all things Italian and a dream became reality and Gill's became Emilia with a strong, hearty Italian menu for anytime of the day. Breakfast is Smashed Avocado with pumpkin puree, scamorza and ricotta fritters or Scrambled Eggs with stracciatella and 24 month prosciutto, there is toast, porridge or the Baked Eggs with pork sausage, sourdough and parsley.
Dinner can explore through snails, gnocco, carpaccio, lasagne, spaghetti vongole, slow cooked lamb neck or pork fillet with pancetta and sour cherries. With all those lovely flavours around we were very excited about lunch and a free pass on any healthy eating requirements for the day!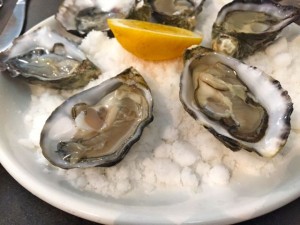 Oysters freshly shucked were divine, perfectly shucked, filled with their natural salty brine and just a squeeze of lemon to make a wonderful start to our lunch.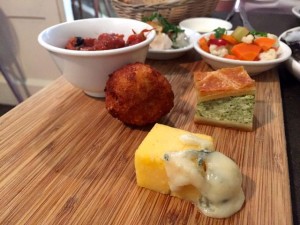 We also shared the lunch special antipasti misti platter with arancini, escubeche, polenta with gorgonzola, braised baby octopus, spinach and ricotta erbazzone and pickled vegetables. WOW – what a great little taster to get us excited with. The polenta with that heavy hit of gorgonzola was perfection, the little erbazzone was so full of flavour and the braised octopus was hubbys favourite. It was a fantastic collection of modern Italian and I loved every bit of it.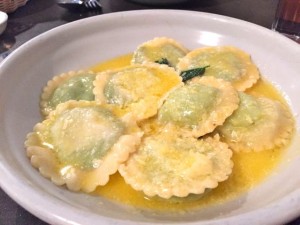 Main however were a complete let down….. maybe there was too much pressure on the day but I could have cried at my Ravioli di magro – Ricotta & spinach ravioli, in butter and sage… sounds perfect, simple Italian. Sadly no, the pasta was extra al dente, it was hard and unpleasant not silky and soft and lovely. It didn't taste fresh and I was terribly disappointed, ever worse it was swimming in a bowl of melted, tasteless butter… I was expecting a delicate butter and sage sauce but this was not enjoyable at all.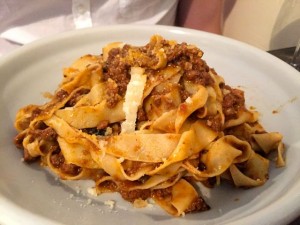 Sadly hubbys Tagliatelle alla Bolognese was no better received, hubby described the pork & veal ragu as bland and tasteless and he wished he just had more of the fantastic braised octopus instead. What a let down, all I wanted was a little of Italian heart and soul but not here. The staff didn't seem particularly interested on the day and they certainly didn't seem concerned to take away two near full bowls of food, I wasn't too concerned to tip either. I didn't complain, I didn't feel it would make any difference on the day.
Sad and deflated we headed off into the sunshine in search of a refreshing glass of wine and a bowl of chips to munch on……