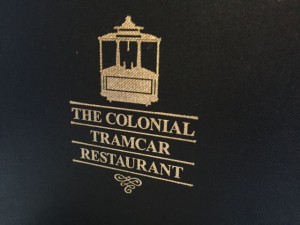 Melbourne's famous Colonial Tramcar Restaurant is a real experience, whether you have lived in Melbourne all your life or are visiting for a short time a lunch or dinner on this cute little piece of historical rails is a real treat. Cruising around Melbourne since 1983 they are small but perfectly fitted out with old world decadence and even a full kitchen to deliver a very high standard dinner. You'll rumble through the streets whilst enjoying a four course meal and accompanied drinks and seeing all the sights that make this city so special.
Food wise it's pretty impressive, it really is a very small kitchen but they punch out a really lovely menu and with exceptional service and a glass of sparkling you can't fail to have a great time.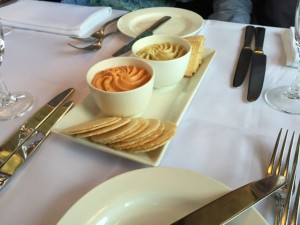 We went for a shorter lunch option on a Saturday but you can do evening meals in two sessions with the later five course meal going for three hours. We started with little bowls of hummus and roasted red capsicum dip, perfect with our bubbles as we set off into the CBD.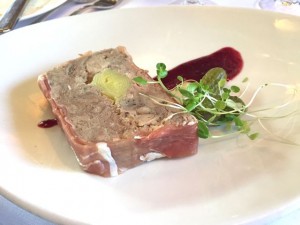 For entrée there is a choice of the Duck Terrine with tender confit duck terrine wrapped in prosciutto and accompanied by a wild berry relish and cornichons – hubby was very pleased with his duck though he did share a little with me! You can carry on with your bubbles or there is a great local red or white wine on offer.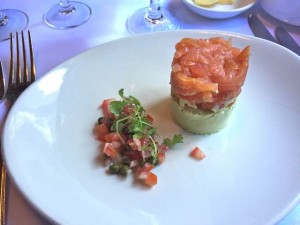 Second option is the Smoked Salmon & Avocado with smoked Tasmanian salmon with avocado mousse and dressed with baby capers, red onion and tomato salsa. A healthier option packed with good fats and lots and lots of flavour. Beautifully presented and you can already see a small kitchen can plate with the best of the boys!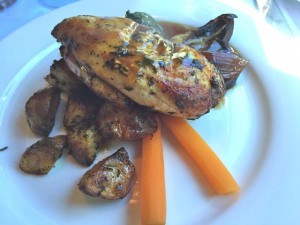 For mains I went the Grilled Chicken Breast – marinated in herbs on a bed of sautéed spinach served with seasonal vegetables and a rich reduction, this was a beautiful dish, perfectly cooked and not dry at all which you might worry about with the small kitchen and warming up dishes on the fly.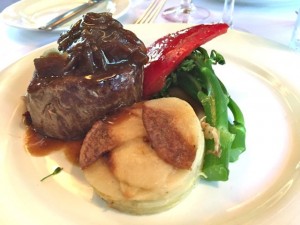 Hubby's Victorian Farmed Eye Fillet of Beef paired with a rosemary and thyme scallop potato, fresh seasonal vegetables, onion marmalade and red wine jus looked sensational and hubby loved but it was on the very rare side. Our lovely lady looking after us did notice and checked if he was ok and being a good stiff upper lipped Brit he battled on but the offer was there!!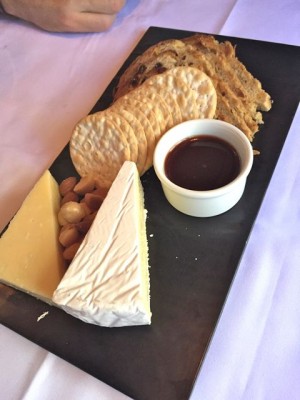 Final course is the 'Chef's Selection of Local Cheese' matched with a quince paste, golden crisp water crackers and a spiced fruit loaf. After such a lovely entrée and main a bit of cheese is perfect rather than a heavy dessert and this was a perfect amount for us to share over our digestif and coffee.
It a really lovely experience, going down past the St Kilda seafront and around where we live was a real pleasure and made me appreciate how lucky we are to live in a great City AND have a tramcar restaurant to go and see it in!