It's not hipster! When Albert Park has recently up scaled the 'hip' on a lot of the local spots Dundas Place Café has retained the 'good old local' feel and you can see that by the amount of people dropping in to say hi and picking up coffees and breakfast, with everyone greeting each other by name you almost feel you have dropped into someones kitchen at home! There is a nice seating in the sun area out front and a good size indoor spot but with the big windows all open you feel like you are sat outside but without the hot sun.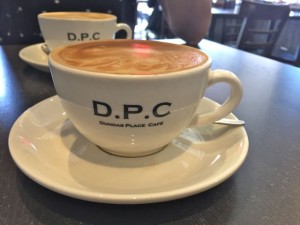 Coffee is hot! And pretty good, very welcome on a sleepy Saturday morning.
The menu is traditional with bircher, porridge, pancakes, French toast and a good old Bacon Butty for just $7.50. More substantial plates come with folded eggs, Turkish eggs, Eggs benedict, Royale or Florentine as well as The Big English and Corn fritters – SOLD!!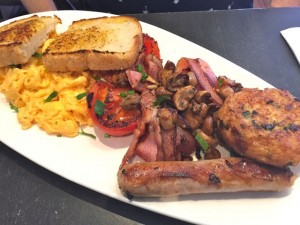 Hubby goes 'The Big English Breakfast' with eggs any style, double smoked bacon, traditional pork sausage, thyme butter field mushrooms, vine ripened tomatoes, house hash brown and toasted sourdough – a bargain at $17.90. It's a substantial plate packed with great food. Though hubby completely fails at eating it all he thoroughly enjoys having a taste of everything and that sausage was damn good as well as the beautiful homemade hash brown YUM!!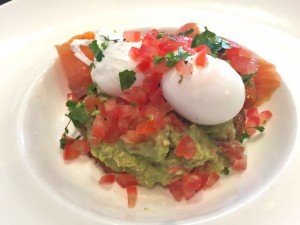 My sweetcorn fritters with poached eggs, Tasmanian smoked salmon, smashed avocado and tomato basil salsa was fantastic, the corn fritters were quite thin and firm and buried under everything but they were very good, loved the avocado, all whipped up and the fresh salsa worked really well with the salmon and the ooey gooey egg yolk…..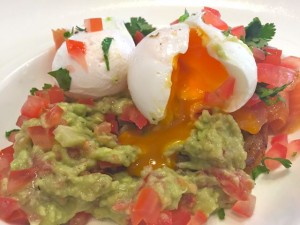 It's not fancy but it's good quality, well made and doesn't cost you a small fortune for a very full tum!