Again up early enough to dare head to Chez Dre on Saturday morning otherwise it is a decent wait for a table at this South Melbourne hot spot. But today the menu is our oyster and we get one of the last tables in amongst the busy breakie eaters enjoying croquet monsieur, fruit toast, eggs, quinoa porridge and more.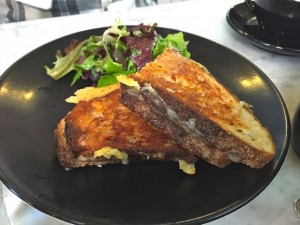 Hubby is still grumpy he got out of bed early and the coffee doesn't help, his croquet monsieur is a bit of a let down, a posh toastie at best, I am sure I remember something far more immense when they first opened with a doorstep piece of bread loaded with ham, béchamel and cheese but this was pretty basic and didn't lift his mood.
My coddled eggs however is FAB! A little trendy jam jar with a green goddess, oozy green goopy wonderful mix of leeks and parmesan with crème fraiche and a very soft egg and then a perfect.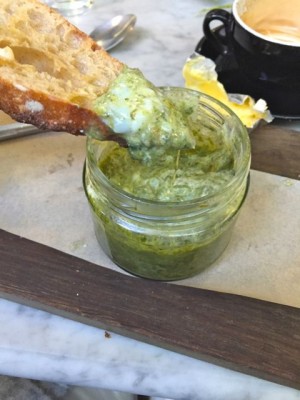 Super crunchy piece of baguette that is perfect to dip deep into the mix and scoop up that delectable mix – so good! It's a great spot though always busy. There are a grumpy pair next to us who appear to have sent their breakfast back once already and are still complaining that their eggs are 'hot' enough!!! Must be one of those mornings!!
Check out Bibelot on the front of Coventry Street to, Chez Dre's sweeter side with delectable cakes, chocolate and ice cream.