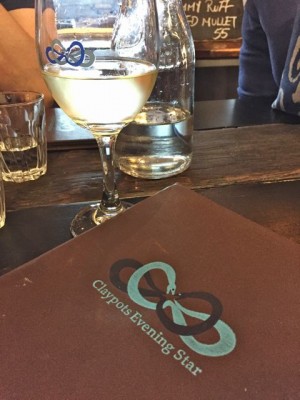 Claypots Evening Star – it's a family favourite and many a Saturday afternoon has been spent with the sun peaking through to this South Melbourne Market fishy haven. With a mainline to super fresh quality seafood Claypots set up their sister restaurant from the well renowned big hitter in St Kilda and I doubt they have ever looked back. With a grilling cart offering calamari and fish sandwiches for those with no time to sit and a full menu and even a jazz band if you are lucky, you can sit back and relax and eat some very lovely food.
The service is a standing joke, generally haphazard, friendly and meaning well but generally there is a soup with no spoon, a missing beer or just a missing face to get an order in to but once it all arrives it is usually very, very good!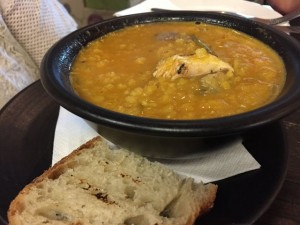 One person is a lentil and fish soup fiend, never tempted by any other dish they absolutely love this thick, unctuous, soup, where the lentils have been slowly cooked in aromatic spices and then at the last minute beautiful fresh, white fish fillets are flash cooked to create a hearty, wholesome dish that is a favourite on the menu.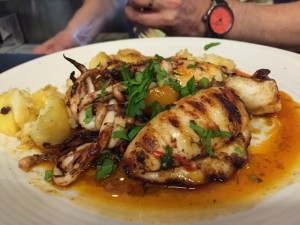 Another person loves the oysters Kilpatrick and the fish sandwich and the sardines and caramelised onions and ….. well pretty much anything in the regions of fish and grilling!! Today is the stuff squid which takes nearly as long as his lost beer, there is no stuffiness here, when the food is ready it comes, everyone else might have finished their dishes by then but that is just the way it goes! In this case the smashed potatoes to go with the squid came out 15 minutes before the squid so our little trooper go on with it and had half hot on arrival and half cold with the squid which was, by all accounts sensational!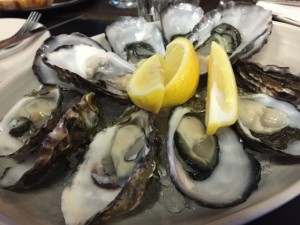 Another person thought a dozen oysters would be perfect, this is where the hilarity rolls in…. so two arrived, a look of confusion and immense disappointment! Off they went back to the kitchen…. Then 24 arrived…… off they went back to the kitchen….. then 10 arrived!! We just want a dozen! The irony was after the first dozen we promptly ordered another 12 as they were so good and as far as lunch goes, for a $1 each why not!! They were perfectly clean, shucked, fresh and perfect with a cold glass of Riesling… which we ordered two of and got three after chasing of the first two!!!
It's not perfect but it's tasty! I have a soft spot for this place but never take anyone with no tolerance – they won't go well!!