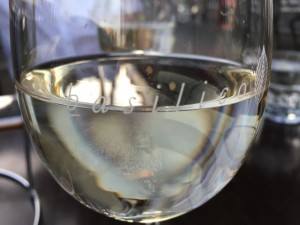 When Summer starts to appear and we all want to get outside and sit in the sunshine with a cold glass of wine and some good food you start to explore all your old local haunts and remember why you loved them so much. Basilico is certainly one of those and just a stones throw from our home, you (or we!!) can enjoy traditional pasta, pizza and good old Italian hospitality. On a perfect sunny Sunday evening we rock up and there isn't a table free – that's when you know it's good and we are out too early with all the families enjoying their dinner. Not to worry there is a table outside and the heaters are coming on as the sun sets, quickly given water, menus and a bottle of very reasonably priced Riesling and you can just sit back and relax – Happy Sigh!
The menu is as you would expect – pastas are by the sauce and then pick your weapon – spaghetti, penne, tortellini, fettuccini etc and then the sauce – Pesto, Carbonara, Matriciana, Marinara and more! There are risottos with chicken and avocado or meatballs or seafood. Traditional veal scaloppini and involtini as well as garlic prawns, parmigiana, cacciatora AND pizzas! There are lots and lots of lovely pizzas to choose from – whatever you wish, I am pretty sure it is there!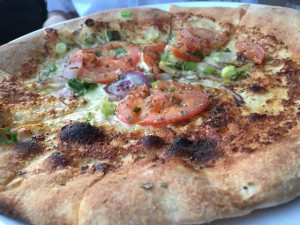 We started with a garlic bread on their super thin, crisp pizza base with garlic, spring onion, tomato and a touch of cheese….. just heavenly!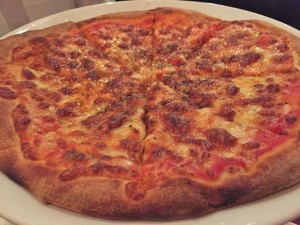 The margherita with napoli, cheese, basil and oregano – you can tell a LOT about a restaurant by their margherita and this is a perfect specimen with that stunning wafer thin base that still holds its own, a wonderful Napoli sauce that is a balance of the sweetness and also the bitterness that can come through with proper homemade sauce. A sprinkling of cheese that is burnished at that moment just before going too far and burning but would have been bubbling to golden as it was whipped from the big pizza oven. Hmmmmmmm …….
A little Italian salad with spanish onions, olives, tomatoes and cucumber is my attempt at making this a healthy night! It was a great, fresh salad and reasonably priced.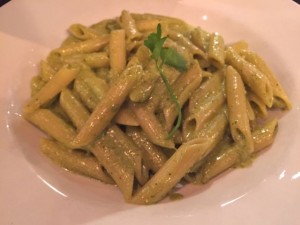 OHHHHH the Pesto Penne with little toasted pinenuts, basil, garlic, cream and parmesan, cheese – WOW! I haven't had pasta in months and this was the best splurge ever! Perfectly cooked penne smothered in a decadent, creamy pesto sauce.
This was one of the happiest meals I have had in ages, great service, amazing food, lovely wine and just a short trot home! Basilico you are the BEST!!