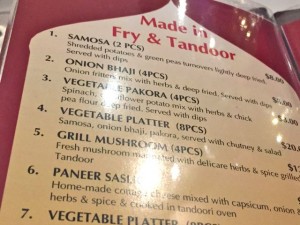 Aashirwad Curry House in Beaumaris, a little off the beaten track for Foodie About Town but always happy to scout out somewhere new where all the 'Burbites' know their best local haunts. Aashirwad is relatively quiet and considering we were the only table in for the whole night, apart from take aways, the service was pretty slack.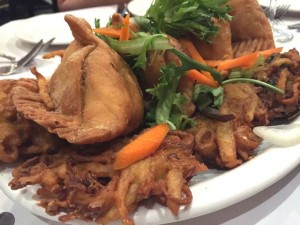 Samosa – shredded potatoes & green peas turnovers lightly deep fried
Onion Bhaji – Spinach, cauliflower ptotaot mix with herbs & chick pea flour deep fried
Vegetable Pakora – Spinach, cauliflowe, potato mix with herbs & chick pea flour deep fried
We seem to end up with more than we ordered and missing the sauce that was brought a little begrudgingly to the table. They were very nice, far too much and all very bulky, generous serves – perfect with that sauce!
There are pages and pages of curries to choose from, from paneer to pork, peas to prawns, lamb to lentils – you can have it all!!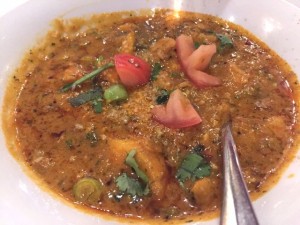 My Goan Fish Curry was really flavoursome and had pieces of white fish cooked in a special spices and coconut milk gravy finished with coriander and coconut powder. The gravy isn't very creamy and is more oily but it had a lot of great flavours to enjoy.
Hubby's chicken korma looks the part, good hunks of succulent chicken in a nice, thick, creamy sauce – a little bland but nice enough.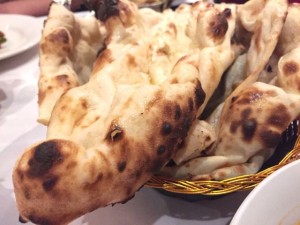 The naan was one of the best I have ever had, mega fluffy and glistening with butter this was a masterpiece amongst the curries.
The delivery trade was going well that night, looks like Beaumaris like a take away curry and they like Aashirwad!