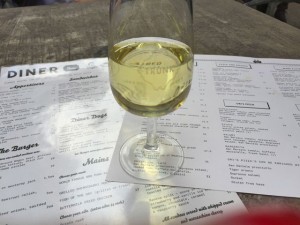 I have been wanting to get to Trunk Diner for a while and on a perfect balmy Spring evening we get a big table outside next to heater for when the sun sets and sit back in the lovely setting that could be anywhere and not obviously slap bang in the middle of Melbourne CBD. It's a great place with two menus for the inside more bistro setting and the diner option meaning you can pretty much order anything! Burgers, Pizzas, dogs, salads, steaks, ribs….. it is a lot to choose from!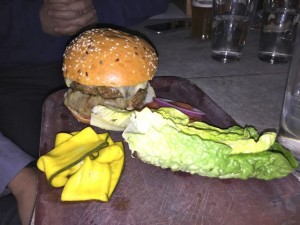 Apologies for the pictures, outside and night time doesn't bode well but you get the idea. Hubbys burger was good by all accounts, you get your burger in a roll with your extras on the side to put in what you want – lettuce, tomato, zucchini. Tick tick, not the best burger but an enjoyable one.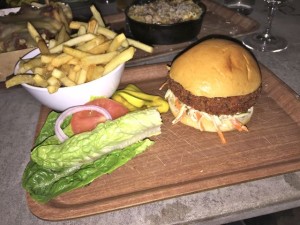 My fish burger was a huge disappointment, I expected a beautiful piece of fish, crumbed and proud in a brioche bun but it sadly was not. It felt like something you get in frozen, not freshly made and not tasty….. 🙁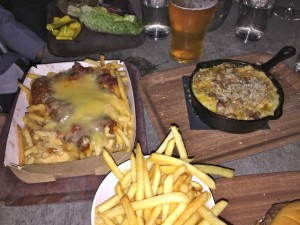 The sides with chilli fries and mac and cheese were ok, everyone chowed down and it was a lovely night but a bit of a let down for me… should have gone the burger!