My new found early weekend waking does mean there is always time for breakfast these days! This Saturday we toddled off in the Spring sunshine to see Bowery to Williamsburg. Situated down one of the cobbled streets off Flinders, you might never know it was there but it you are craving a reuben, philly cheese or lox and latkes you will soon sniff this place out!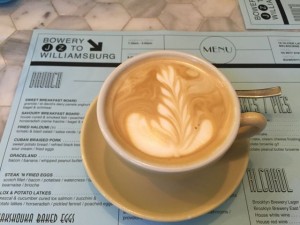 Coffees come with Hershey kisses, even when you order decaf! The service was just getting going and staff still appearing so it was a bit haphazard but we didn't have to be anywhere and it was totally worth the wait. The menu is an all day feast of baked eggs, bagels, cured fish, waffles, breakfast boards and much more.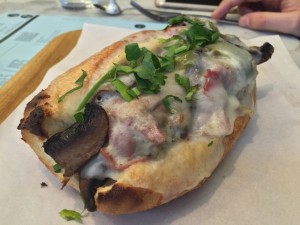 Hubby had to go the philly cheese steak – even for breakfast! Not a 'dirty' traditional philly cheese, this was a refined cousin with more going on that just slithers of steak and melted cheese. There was smoked beef brisket with onions, peppers and mushrooms with promolone cheese. "It's great it tastes like pizza" hubby exclaimed – obviously the way to his heart at 9.30am!!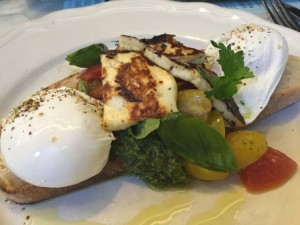 My fried halloumi with tomato and basil salad with salsa verde, poached eggs and a side of potato and zucchini latkes with horseradish crème fraiche – WOW The halloumi was not actually the star! The super fresh little tomato salad with basil was beautiful and the latkes were……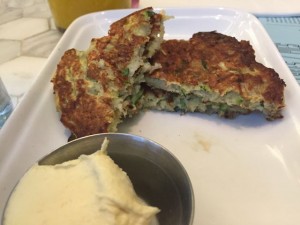 …..fluffy soft and sang with that horseradish. It was a sensational dish, eggs were suitable bulbous and yolk porn was on point!
It's a lovely place, I imagine lunchtimes are scarily busy with everyone hankering for pastrami beef brisket reuben or a Cuban braised pork 'Lechon Asado'…. Hmm could just go one of those right now!!