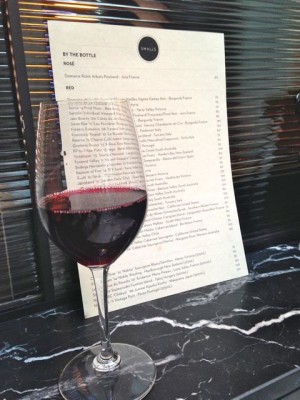 Smalls Bar, small in name, small in nature, you can seat 24 people in South Melbourne's new Smalls Bar. Situated next to St Ali, I can imagine when Smalls takes off it is going to be just as hard to get in!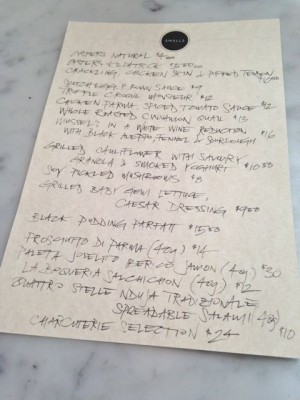 The fit out is both clever and quite lovely, each area has been maximised to fit and there is obviously a lot of thought into every element down to the water glasses and the tiny tapas plates or Small plates maybe?! The menu is a reasonably priced list of nibbles with some of the expected and a few little surprises too. Oysters, quail, mussels charcuterie and a chicken parma that I imagine is anything but ordinary! Black pudding parfait sounds wonderful and who could resist a scotch egg with brown sauce.
The wine, selected by Ex-Rockpool sommelier Wiremu Andrews, is relatively extensive with a broad spectrum of home grown and overseas options to suit most and a few good options by the glass.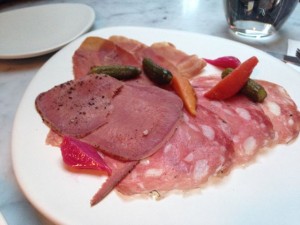 Our charcuterie was great with plenty of choice across the prosciutto, bresola, tongue and more, nicely charred bread and a good little snack with a lovely pinot noir.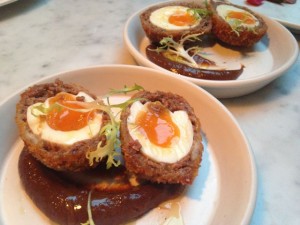 Hubby was very excited about the scotch egg, me less so, but I was totally on board when it arrived! No scary bulbous, fatty sausage meat clinging onto a dried up greying hardboiled egg from my childhood! This is succulent, flavoursome and that egg is positively gooey! "A perfect scotch egg" – high praise indeed!
We only stopped for a short while but it was a nice spot to be, I imagine there will be many moments of disappointment over summer when we trot down for another scotch egg and can't get a seat for love or money but it's a great addition to South Melbourne and with the infamous Jess Ho at the healm I am sure it will do well.