I don't get to dine out Moroccan style very often but Sahara are delivering just that, hidden on the CDB amongst all the boilermakers, tacos and refusals to take a booking is this little oasis including a rooftop bar no less! With a large group all booked in with our own table in the restaurant we turn up haphazardly, a motley crew of disorganisation!! But once there we easily go for the $40 feed me menu that allows you to pick a heap of dishes to share with your besties and explore a bit of Moroccan food and culture.
The menu is an extensive list of amazing sounding dishes with tagines, borek, cous cous, baklava, brochettes, kibbeh, pastille pie and a whole roasted goat leg if you fancy! Our crew are pretty easy going and the birthday boy gets to make most of the hard decisions before we all sit back with a very reasonably priced house cabernet and let the feasting commence.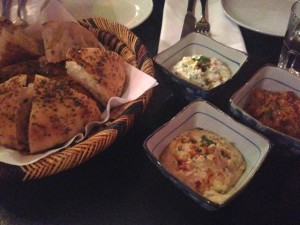 Toasted Turkish bread served with three homemade delicious dips including pumpkin, hummus and a chefs special which was a yoghurt dip like a tzatziki, but Moroccan style! Couldn't stop eating this, beautiful warm bread and fantastic dips, carb overload is a rookie mistake – it's a marathon not a sprint!!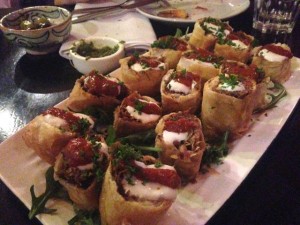 Oh the lamb Borek – "It's very nice!!!" Crispy Borek pastry filled with tender flaked lamb and served with tomato chili chutney – fantastic!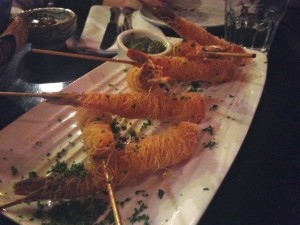 Kataifi noodle wrapped prawns served on a stick with green chilli spiced harissa sauce were so good I could have stolen everyone elses, love a good prawn on a stick and even better with crispy Kataifi noodles and a spicy hit from the harissa sauce.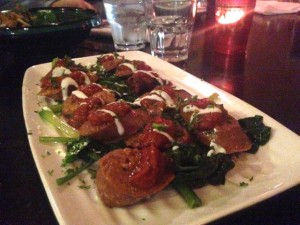 Birthday Boy was very excited about the Camel Merzouga! Spicy and grilled camel meat sausage with sautéed spinach and chilli tomato chutney. No sure what I expected camel to taste like, I don't think I have had it before but it was very nice, very much like a normal sausage, maybe like a beef sausage and the spices created a fantastic flavour that had the plate emptied in seconds.
The tagines, imagine a long table of very happy individuals and then fill that table with lots of heavy, wonderful food ladened tagines and lots of cous cous to feast away!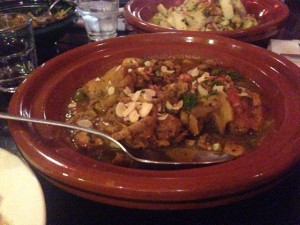 Chicken Tagine with Chicken Maryland fillets cooked with preserved lemon, spices, green olives ,thyme and garnished with toasted nuts and pomegranate. I love all of the flavours that come together in this dish, for me this is quintessentially Moroccan to me and it was one of my favourites.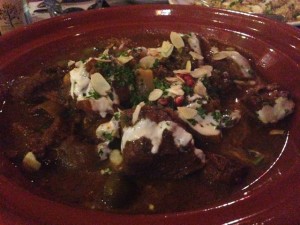 BUT THEN ….. the Lamb tagine with slow cooked, tender braised lamb spiced with paprika, cumin, ginger and garlic. Cooked with tomatoes, prunes, apricots , green olives and served with yogurt and toasted nuts and pomegranate was a sensational dish, all hearty and comforting.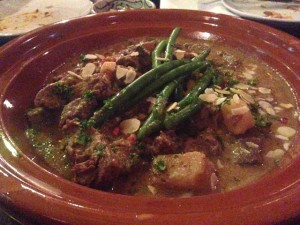 Beef tagine with yogurt and cumin braised beef mixed with almonds, potato and coconut sauce, served with blanched green beans and toasted nuts so good, hunks of tender beef in a deep sauce with potatoes and green beans – the boys were in heaven!!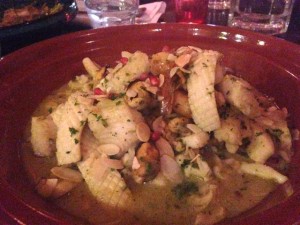 The Seafood Tagine with white fish, prawns, calamari and half shell mussels cooked in green chilli coconut sauce wasn't my favourite, it had a very rich buttery taste, it definitely wasn't one of the tagines scraped clean on our table but that's why the feed me idea is so great so you can all share and try a couple of different tagines.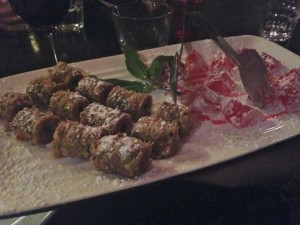 Dessert was a simple dish of bite sized Baklava and Turkish delight with a perfect sweet mint tea.
Service was great, they looked after us really well, brought plenty of water and wine for those inclined, put up with our tardiness and all of our requests. It was a really nice place to be and I think we will be a regulars here for some hearty tagine and comforting Moroccan spice.