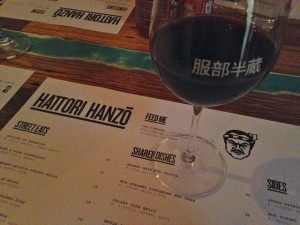 Hattori Hanzo, I am told is named after the man who made the swords in Kill Bill…. Not the sauce! When we get to Hattori Hanzo it is really busy, a write up in The Age will do that for you. It is also incredibly loud, I am not being an old lady about this! The acoustics are bouncing everyone's chatter around the room and it is deafening hence I thought Hattori made the sauce in Kill Bill… we are in a restaurant after all!! It did calm down a bit to a nice hum after a few of the tables left and you could even hear the music playing towards the end of the night.. but enough about that!
It's romantically lit, there is a nice waiting area by the front bar just in case you can't get a table and the menu has plenty for everyone to choose from. There are old black and white movies projected on one wall and the toilets are quite Japanese Zen Spa like with candles, flowers and their own lovely soundtrack!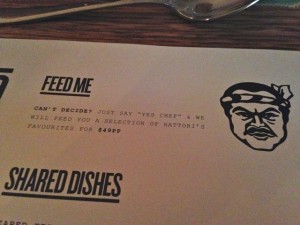 The menu does have a lot to offer and though there were some stand outs on the page we went for the feed me option as we were all too tired to pick! $49 is a pretty good price for seven courses and as long as you get a decent amount of food but not so much you have to loosen your skirt it is always a great plan!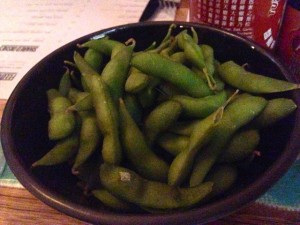 We started with edamame with Maldon salt, minus the salt! Probably just got missed and not a big deal – we could have asked for some if we wanted too.
The DIY Iceberg lettuce spring rolls with tofu and almond satay were fantastic, A – because they got my brother to eat tofu and B – because I really like tofu and the almond satay kicked ass! So warning to the 'not so spice' tolerant, there is a fair bit of heat going around at Hattori and you might need to check which dishes are going to cause you discomfort if you don't realise what is lurking!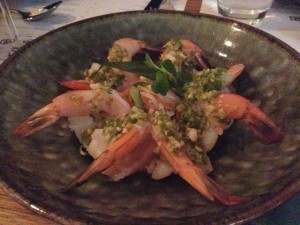 Speaking of lurking! The spicy poached prawns with carrot and daikon slaw were really bloody hot! I love spice and all things that burn and numb and the chunky dressing on these perfectly poached prawns was getting to a 6 or 7 on my kinda hot rating! Good job we realised before the less chilli fanaticals bit in.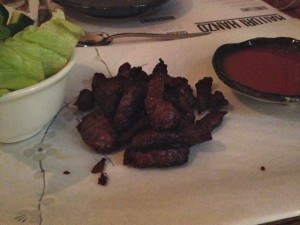 Beef jerky with sriracha, lettuce and cucumber was really just stir fried beek – I didn't get anything jerky about it but it was nice enough and I love a bit of sriracha.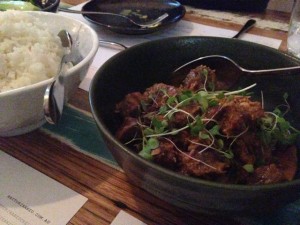 A winning dish on the night was the slow cooked beef cheek rendang with roasted coconut, cooked so long it was just flaking apart but still juicy and full of flavour we licked the bowl on that one. Perfect with the fresh roti canai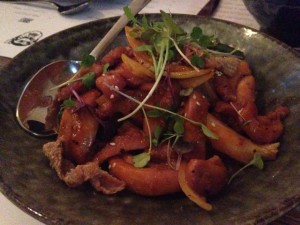 Korean chicken stir fry with crispy chicken skin was ok, wasn't a stand out but wasn't bad either.
And that was your lot! I was a bit disappointed we had a spoon there but no dessert but we had had plenty of food and tried some of the lovely dishes on the menu however I still could have fitted in a caramalised banana roti with green tea ice cream. It felt like we had about $200 worth of food, though if we hadn't have been so lazy we probably wouldn't have ordered as much… but then I would have ordered desserts so it all balanced well!
The staff were nice, disappeared at times but it was busy and it's all still pretty new.
All in all a great spot for Cheltenham and you can tell they were excited by how many people had ventured into the cold on a Wednesday night.