What is this craziness? Two new places opening up in South Melbourne in a week, we already visited our new favourite breakie spot Wynyard and now just a stones throw is San Jose our new local burger café. It used to be a tiny little Japanese and you would never know, the guys have ripped everything out and started again and it looks great! Simple, airy, good amount of tables and a good menu to get you through the day. Breakie looked good with just a few options across the weekend, you can enjoy the Melbourne favourite avocado with feta and tomato on toasted sourdough or eggs benedict or a Mexican omelette with pork chorizo, bacon and a warm cheese sauce…. Drooooooll droolll!! Or a healthier omelette option with mushrooms, feta, basil and spinach.
BUT breakfast smekfast there is a burger and dawg menu! Gotta love a burger and it there is a new joint on my doorstep I am hoping it is going to be damn good!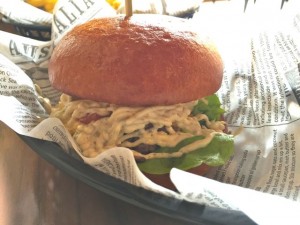 The Jose is a very reasonable $8.50 and has cheese, lettuce, tomato, pickles and the specially made San Jose sauce all dancing with their juicy beef patty in a brioche bun. And it was good, it was a nice size, that San Jose sauce was fabulous though perhaps a little too much on ours as it all started to get a little soggy and tricky to hold onto with everything else going on.
There are plenty of other burgers to try too including Big Nic's for your double patty hit, the Down Under with egg and beetroot, Spicy Lori for your chicken option and the Lexa for a less spicy chicken option. Crumbed mushroom burger covers off the vegetarians before you head into hotdog land!
The Adrianna is 'a special spin on a classic' with savoury pork chorizo, special cheese sauce, crispy bacon in a warm bun….. sounds good!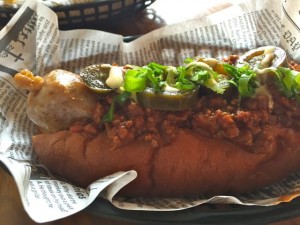 We went for the Ed's Chilli Dog and that chilli was fantastic, I could just eat a bowl of that!! The bratwurst sausage was huge and had a few bits of gristle or fat in there that I didn't love but it was a fun dawg of a dish!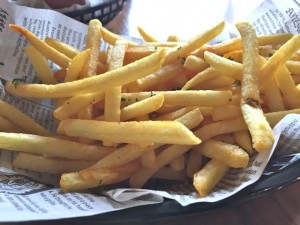 Fries were great, not all fries are created equal and these were up there, super crispy, not greasy, scattering of herbs and I was a happy girl… could just eat a bowl of those right now!!
PS – you can get chill cheese fries….. HELL YES!!
It's a great little spot for a burger treat….. next big question is …. Can you deliver chilli cheese fries?!