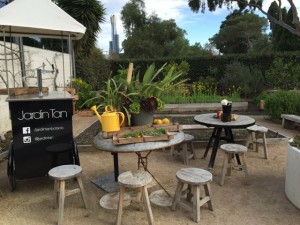 What to do when you wake up early on a beautiful Saturday morning and your belly rumbles? Well you can have a jolly jaunt around the botanical and then finish your little job with a breakfast in the Jardin Tan gardens. It's feels like they haven't been open that long but I am sure they have, this French / Indochina crazy spot has an eclectic menu with banh mi baguettes with breakfast or lunch and spice all around.
The setting is gorgeous, with plenty of room in the front and a kiosk packed full of pastries and croissants to enjoy with a coffee if you are in need of a snack but for a more substantial breakie you can enjoy Coconut porridge with caramelised bananas, macadamia and palm sugar caramel or Bircher muesli with pineapple, passionfruit, orange and seasonal berries. More savoury options include Avocado with Yarra Valley Dairy feta with a toasted bánh mì or Hanoi style braised tomato with turnips, tofu and slow-cooked eggs. The more substantial Bánh Xèo, looks spectacular, a big crispy pancake with pork and shrimp or chow down with a traditional Vietnamese congee.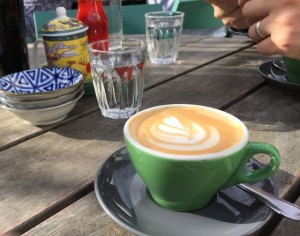 Coffee was very welcome and very nice, we managed to get a little table in the garden at the back where Spring was certainly starting to sprung!!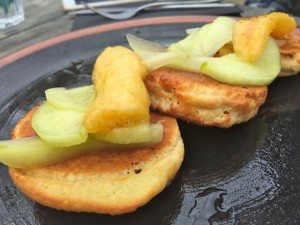 It was a really lovely setting and a even nicer treat was hubby's Gluten free pancakes with poached banana and apple, hubby is not gluten free but he'll try anything and he LOVED these. Like little hotcakes, with sweet fruits it was a really great dish with lots of good flavours.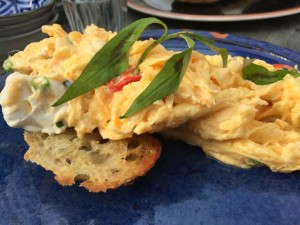 My Scrambled eggs with chilli and a sensational whipped Yarra Valley Dairy feta, spring onion and some very, very yummy toasted Burnham Bakery bread was perfection! The eggs were perfectly done, it was a generous portion that I couldn't get through but I loved the chilli and feta, the coriander wasn't there which I would have loved but that toasted and buttered bread was a real hit!
It's a peaceful spot, even with a fair few people around and though the menu might not be for everyone I am pretty sure I will be back… especially when you check out the bar menu!!