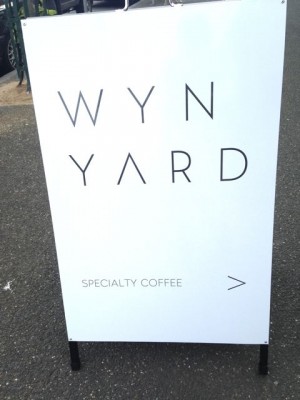 You have to love Melbourne, there is always somewhere new popping up and any little laneway with an empty space will undoubtedly turn into a fantastic little café, wine bar or restaurant. The guys that brought South Melbourne their first hipster café Giggiup have done another joint retail venture now with Made in Japan with the lovely Wynyard. Offering a damn good coffee and a menu with plenty of options to suit most palettes, it is a fab spot and we were lucky enough to be up and out and about early on a Saturday because I doubt there is any chance of a table later on as word gets out.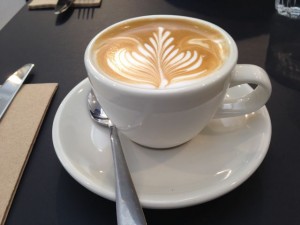 The menu is so lovely, your usual eggs and toast, hotcakes and Eggs benedict but then also some of those dishes that you just spot straight away and go 'Oh Yes, that's so ME!!' like Eggs verde with soft scramble cheddar and cornichon or Green blinis with smoked salmon, poached egg and Tuscan kale puree. Later options cover Pork chimmichurri tortillas, eggplant and parmesan fritters chickpea and chermoula salad or pie with smoked mushrooms and braised beef.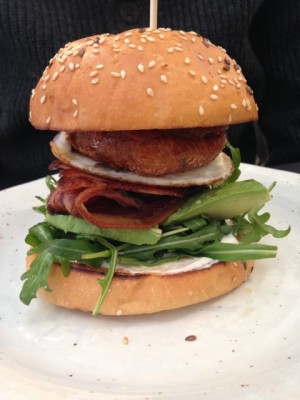 Right up hubbies street is the Early burger with bacon, fried egg, Dutch cream hash, avocado and relish…… he sure did! The Dutch creamy hash was to die for with that relish!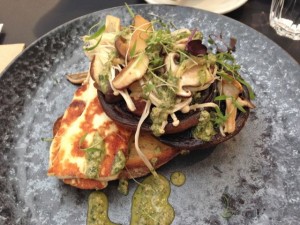 My smoked mixed mushrooms with halloumi and parsley walnut pesto on sourdough – I LOVE mushrooms, almost as much as I love pizza! In fact my favourite pizza is mushroom! This was everything it promised to be, many, many different mushroom, beautiful enoki, big, fat baked flat mushroom, beautiful glistening button and perfectly, squeaky, burnished halloumi and that great fresh pesto to bring it all together. It was a very generous portion, nearly too much mushroom even for me but prices were reasonable and it was the nicest breakie I have had in a long time.
Wynyard will do well, they have ticked all the boxes with a great fit out, great attitude, great menu and the coffee rocks!